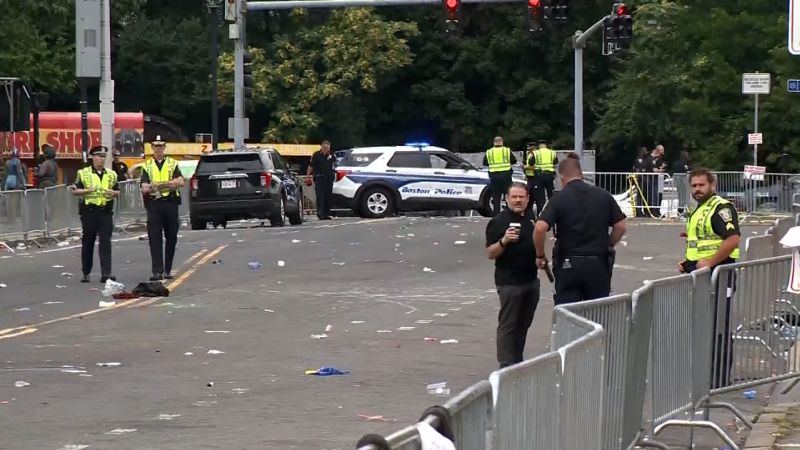 At least seven people were injured Saturday morning in a shooting that halted a popular Boston parade, police said.
The victims were taken to local hospitals with non-life threatening injuries. Two arrests were made and multiple firearms recovered, police said.
Boston Police Sgt. Det. John Boyle earlier said the shooting occurred during the J'ouvert Parade, which is part of the city's Caribbean Carnival.
Police Commissioner Michael Cox later clarified that the violence erupted on the outskirts of the event. The parade was halted because of the shooting, which was unrelated, Cox said.
"It's always heart wrenching to hear that a treasured community event has been disrupted by acts of violence from those who had nothing to do with the event," Mayor Michelle Wu told reporters.
"And there's no – absolutely – no excuse for something that is open to the community and part of Boston's culture and heritage to be talked about in this way because of the acts that were introduced."
Police said emergency calls started about 7:45 a.m. regarding a shooting at the corner of Blue Hill Avenue and Talbot Avenue in Dorchester.
Cox said the shooting potentially involved "two groups having some type of altercation."
"As a result of officers responding very quickly to the scene they were able to run towards not only the gunfire but actually apply tourniquets and help to all the victims of the gunshots," Cox said.
Police asked anyone with video evidence or those who witnessed the shooting to contact them.
Boston's Caribbean-American Carnival is celebrating its 50th anniversary.
"We have no interest in having anything but peace," said Shirley Shillingford, president of the Caribbean American Carnival Association of Boston.
"It was very, very difficult for me this morning to know that something occurred when we work … so incredibly hard to put on something that is more a family oriented event and peaceful."
The carnival's second parade is scheduled for Saturday afternoon.
"Despite the horrible event that occurred this morning, Boston Carnival is still on!!!!" the carnival association said via Instagram and Facebook.
"The rest of the day is going to be a really wonderful celebration," Wu said.
The daylong event, which dates to 1973, usually draws thousands of people for a cultural celebration that includes a steelpan competition and a masquerade ball, according to its website.
CNN's Polo Sandoval contributed to this report.