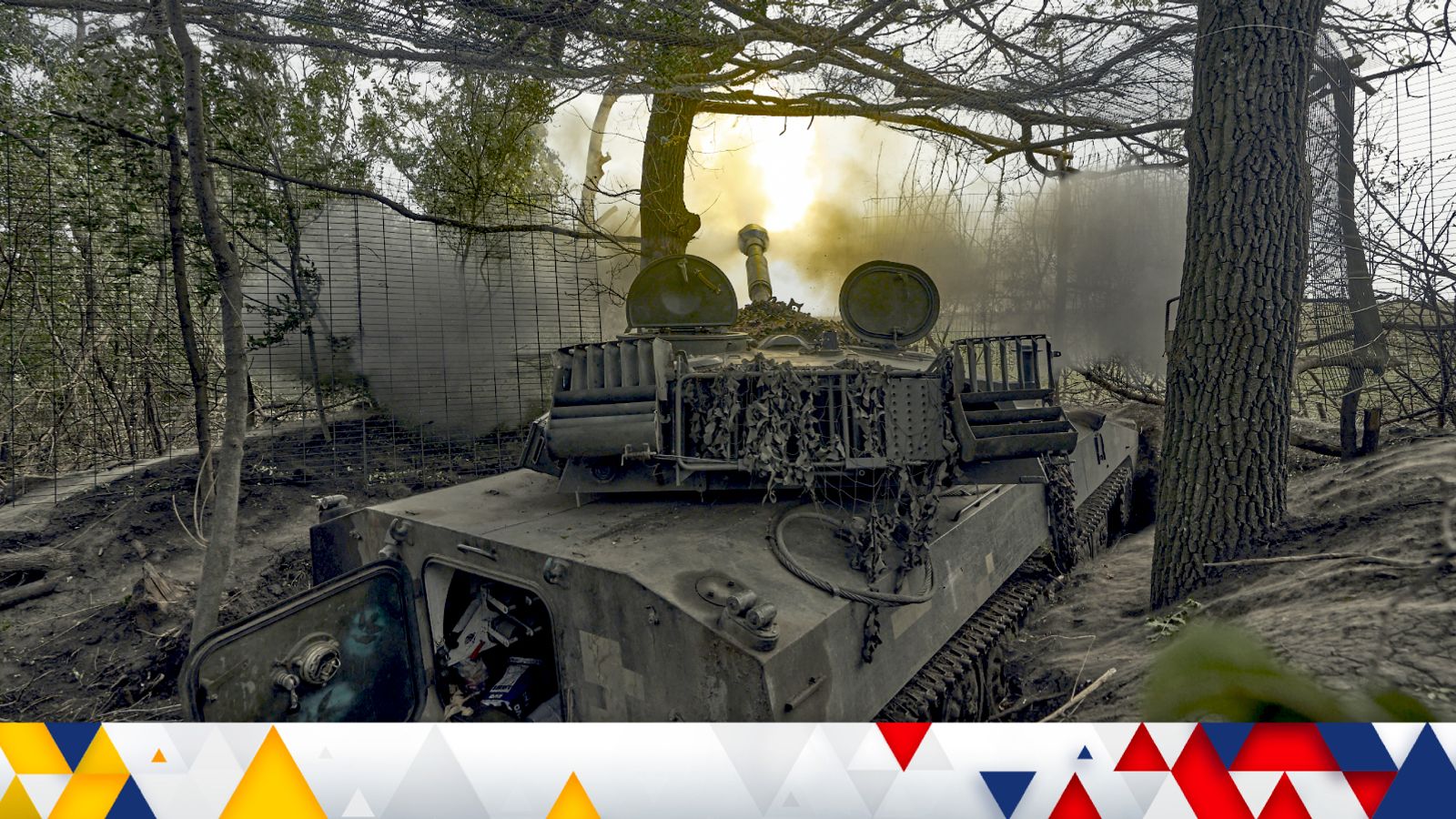 Reinforcing trenches on the frontline
Under the cover of darkness, soldiers reinforce trenches and carry ammunition boxes near Bakhmut.
Air strike on high rise building kills two
A Russian air strike on a high rise residential building has killed a married couple, according to the Donetsk regional prosecutor's office.
Ukraine has opened a war crimes investigation into the attack on Vuhledar, which left the couple's 19-year-old daughter and another resident, 53, injured.
Explosions destroyed the entrance to the building, and damaged windows and balconies.
Russia's new 'Satan II' missile operational – reports
Russia has placed an advanced intercontinental ballistic missile on combat duty, according to Russian news agencies.
The Sarmat – nicknamed Satan II – is capable of carrying multiple nuclear warheads and will make Russia's enemies "think twice", Vladimir Putin has previously said.
It replaces the R-36, known by the NATO reporting name Satan, and reportedly has a short initial launch phase that allows little time for surveillance systems to track it.
Around two months after invading Ukraine, Mr Putin said the Sarmat would "reliably ensure the security of Russia from external threats and make those who, in the heat of aggressive rhetoric, try to threaten our country, think twice".
Soldiers fire weapons and mortars near Bakhmut
Ukrainian soldiers fire weapons and mortars near Bakhmut, while others take rest in makeshift beds.
Earlier this week, deputy defence minister Hanna
Maliar said Kyiv's troops were advancing near the city – the only one Russia captured in its offensive earlier this year.
Heavy battles were engulfing villages south
of it, she said.
Oleksandr Syrskyi, commander of Ukraine's ground forces,
reported a "positive dynamic" near Bakhmut
Surge in Russian demand for kamikaze drone insurance – reports
A surge in demand for kamikaze drone insurance has been reported among Russian citizens and businesses.
Some insurers have been selling terrorism packages while others have agreed to pay out for "falling flying objects", accorded to Izvestia.
Inquiries have risen most in western Russia, where it borders Ukraine, and in Moscow, the Russian newspaper said.
One company, RESO-Garantiya, charges between 500 and 5,000 roubles (£4 to £41) for collision coverage, its deputy director general told the news outlet.
Over at insurer AlfaStrakhovanie, terrorism is not excluded, its property director Denis Titov said.
Ukrainian drone attacks in Belgorod, Kursk, Moscow and other regions have become more frequent in recent months.
Ukraine 'attacks' two regions of Russian
Deadly strikes have hit the Belgorod and Kursk regions of Russia, according to their governors.
Artillery killed one civilian and wounded two more, said Belgorod's Vyacheslav Gladkov.
Ukrainian drones hit the Valuysky district, damaging one home, he said.
A woman was wounded during shelling of a village in neighboring Kursk, said governor Roman Starovoit.
He blamed Ukraine, which did not say whether they launched the attacks. 
Sky News cannot independently verify these battlefield reports.
At least two civilians killed and 12 wounded in shelling
 Missiles and artillery continued to wound and kill civilians across Ukraine today.
Sumy: A 32-year-old police investigator was killed and two other people were wounded when Russian shells hit the town of Seredyna-Buda.
Kherson: One person was killed and two were wounded in the south of region by shelling, according to governor Oleh Prokudin. 
Donetsk: Four people were wounded in the occupied city by Ukrainian artillery, said Moscow-installed mayor Aleksei Kulemzin.
Dnipropetrovsk: Four people were wounded during artillery shelling and drone attacks in the Nikopol district, governor Serhii Lysak said.
Sky News cannot independently verify these battlefield reports.
Pupils return to school in Ukraine – underground
Under the fire of Russian bombs, one city in Ukraine has come up with a novel solution for sending pupils back to school on Monday – teaching them underground.
Approximately 1,000 students in Kharkiv will spend their lessons in a converted metro beneath the city.
"This is the first step, and when parents see the conditions created here, I am sure the number of applicants will grow," sayid mayor Ihor Terekhov.
"No other city in the world has experience in things like this – Kharkiv is the first" said mayor Ihor Terekhov.
Russia 'nervous of Ukrainian breakthrough' as it redeploys troops to 'fragile' front
A "nervous" Russia has likely been sending its northern offensive forces to help defend the southern front from a potential Ukrainian breakthrough, a military analyst has said.
The Russian frontline is looking "increasingly fragile" as Ukraine makes "slow progress" through the village of Robotyne, south of Zaporizhzhia, Sean Bell told Sky News.
Ukraine's progress comes despite "significant layers" of Russian defences in the region, and there is evidence Russia has responded by removing soldiers from its offensive operation in the city of Kupiansk to bolster its forces in the south, he said.
"That would imply that they are very nervous about the breakthrough that might be happening there," said Bell.
"While we are not seeing a breakthrough as yet, there is mounting evidence that Ukrainian pressure is building on an increasingly fragile Russian frontline."
Ukraine claimed it had taken Robotyne on Monday, and it is throught Kyiv wants to push south from the village to the Sea of Azov and split the Russian army in two.
Compounding Russia's problems is an apparent shortage of counterbattery radar systems, Bell said.
He explained the radars allow Moscow's troops to locate Ukrainian artillery cannons when they fire, but without them Russian forces "are facing an absolute deluge of Ukrainian artillery rounds which is causing them a great deal of difficulty on the frontline".
Nobel's Russia snub 'restores justice' at prize ceremony, says Ukraine
Ukraine has called the Nobel Foundation's decision to bar Russia and Belarus from its Stockholm prize ceremony a restoration of justice.
If you're just joining us, the foundation has cancelled an invitation to the two nations, and Iran, after widespread criticism.
"Thank you to everyone who demanded that justice be restored," said Ukrainian foreign ministry spokesperson Oleg Nikolenko.
"We are convinced that a similar decision should be made regarding the Russian and Belarusian ambassadors in Oslo," referring to celebrations that take place in Norway after the ceremony in Sweden.
The Swedish prime minister echoed Mr Nikolenko's comments and welcomed the decision.
"The many and strong reactions show that the whole of Sweden unambiguously stand on Ukraine's side against Russia's appalling war of aggression."
The leaders of several Swedish
political parties threatened to boycott the prize ceremonies when the foundation initially invited Russia and Belarus on Thursday.