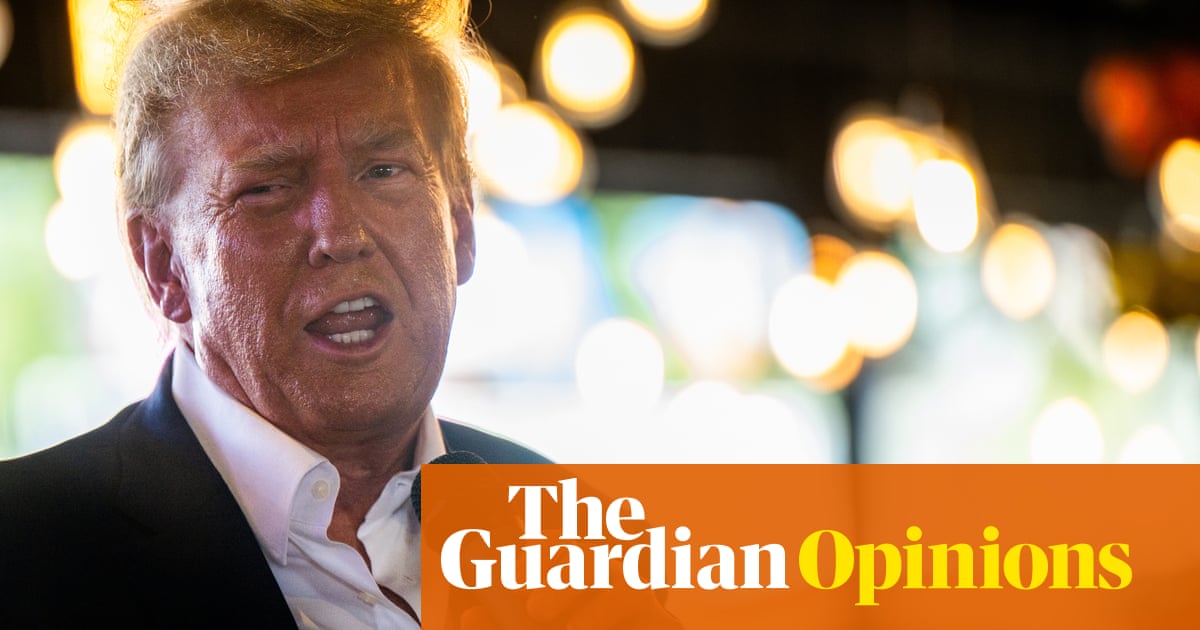 If Donald Trump stood in the middle of Fifth Avenue after robbing the Chase Bank branch by passing a note to the teller saying, "Your money or your life," he'd likely plead the first amendment as his defense: "I was just exercising my rights to free speech!"
Of course, he'd be wrong. Words that criminal defendants have written or spoken are used against them all the time. Perhaps you've heard of a confession.
Still, no one should discount the potential resonance in the court of public opinion of Trump's messaging that he is the victim of a government attack on his first amendment rights. For the best of reasons, Americans prize the constitutional guarantee of free speech.
Hence, it's worth a bit of a dive into why Trump has no serious first amendment defense in a court of law to the charges set forth in the masterful, 1 August DC grand jury indictment in which he's charged with conspiring to overturn the 2020 election.
The law puts it this way: "Speech integral to criminal conduct" is not protected speech. UCLA Law professor and first amendment scholar Eugene Volokh has written that "[i]t's now a standard item on lists of First Amendment exceptions."
In the imagined robbery at Chase, the threatening note is integral to the crime of walking into a bank and taking the loot.
In parallel, in the DC grand jury's indictment, Trump's claims that the election was stolen were integral to the conspiracy, the agreement with others and the acts of working in concert with them to unlawfully obstruct the January 6 congressional certification of President Joe Biden's election.
Surprise, surprise! Trump used words to do that.
The first amendment does not immunize him from conviction because he did so. As even former Trump attorney general Bill Barr explained, "All conspiracies involve speech, and all fraud involves speech. So, free speech doesn't give you the right to engage in a fraudulent conspiracy."
That's more than common sense. In 1949, the supreme court expressly rejected a claim that "constitutional freedom for speech and press extends its immunity to speech or writing used as an integral part of conduct in violation of a valid criminal statute". The statute at issue criminalized conspiracies in restraint of trade.
Applied to Trump's case, the court's holding means you can't tell your campaign subordinates or lawyers to "organize slates of fake electors in seven states", if those individuals agree to follow your orders and do it.
The grand jury indictment fits supreme court law like a glove custom-made for a small hand. It recognizes that Trump has a right to make false claims. The problem, however, is with his actions.
As the indictment recounts. Trump "pursued unlawful means of discounting legitimate votes and subverting the election results . . . and perpetrated three criminal conspiracies."
Specifically, the grand jury alleges that "the Defendant pushed officials in certain states to ignore the popular vote; disenfranchise millions of voters; dismiss legitimate electors; and ultimately, cause the ascertainment of and voting by illegitimate electors in favor of the Defendant."
These are actions performed through words. If proven, they are criminal.
So is lying to a court. According to the indictment, "On December 31, the Defendant signed a verification affirming false election fraud allegations made on his behalf in a lawsuit filed in his name against the Georgia governor."
That's not free speech. It's perjury.
As to Trump's unrelenting false election claims, at the trial, there's little barrier to Special Counsel Jack Smith introducing them into evidence. In 1993, the supreme court squarely held that "[t]he First Amendment . . . does not prohibit the evidentiary use of speech to establish the elements of a crime or to prove motive or intent."
Trump's many speeches advancing his phony claims of election fraud show his corrupt intent to use lies as a method and means to enlist state legislators and others into the scheme. At his trial, they will be admissible.
Before the trial, Trump has vowed to continue to "talk about" his case. He has a general right to do so, but no right to say whatever he wants in public about it.
On Friday, at a Washington hearing on the government's request for a protective order to prevent disclosure of the discovery material that prosecutors will soon hand over to Trump, federal district court Judge Tanya Chutkan addressed the issue.
"Mr. Trump, like every American," she stated, "has a first amendment right to free speech, but that right is not absolute. In a criminal case such as this one, the defendant's free speech is subject to the rules."
skip past newsletter promotion
Start the day with the top stories from the US, plus the day's must-reads from across the Guardian
Privacy Notice: Newsletters may contain info about charities, online ads, and content funded by outside parties. For more information see our Privacy Policy. We use Google reCaptcha to protect our website and the Google Privacy Policy and Terms of Service apply.
after newsletter promotion
"The fact that he is running a political campaign … must yield to the orderly administration of justice … If that means he can't say exactly what he wants to say about witnesses in this case," the judge declared, "then that's how it's going to be".
Her warnings echo the supreme court's broad teaching in the 1966 case of Sheppard v Maxwell. There, the court made clear that rights derived from the first amendment "must not be allowed to divert the trial from the very purpose of a court system . . ." including "the requirement that the jury's verdict be based on evidence received in open court, not from outside sources".
To ensure "the purpose of the court system", Judge Chutkan did what is normal in cases of significant media interest and cases where there are risks to witnesses or of publicly disclosed grand jury material tainting the jury pool. She issued a protective order.
By the order, Trump has been specifically told that he may not publicly discuss materials that the government designates as "sensitive". They will include witness's private identifying information, transcripts of their interviews and grand jury testimony.
The supreme court has said that where good cause for a protective order exists, it "does not offend the first amendment."
It's impossible to dispute that good cause exists where the record shows, as it does here, that just days before Judge Chutkan's order, defendant Trump posted on social media the message, "If you go after me, I will come after you."
No doubt with that message in mind, Judge Chutkan instructed Trump and his lawyers to "take special care" that their public statements could not be reasonably viewed as intimidating witnesses or affecting the future judgment of jurors. "[E]ven ambiguous statements," she warned, "… can threaten the process."
She has broad authority to impose consequences for a party's disobedience. Under the Federal Rules of Criminal Procedure, "If a party fails to comply… " the court may … enter any other order that is just under the circumstances."
In addition, the DC district court's local rules authorize trial judges to fashion special orders to protect the right to a fair trial in "a widely publicized or sensational criminal case".
For now, Judge Chutkan foreshadowed use of the strongest hammer she has in Trump's case to punish any future disobedience, a tool that has nothing to do with holding him in contempt and potentially jailing him.
"The more a party makes inflammatory statements about this case…," she said from the bench, "the greater the urgency will be that we proceed to trial to ensure a jury pool from which we can select an impartial jury."
That's sensible. The shorter the time to trial, the less opportunity for the jury pool to be tainted by messages that attempt to get Trump's story to them extrajudicially or that carry even a hint of intimidation.
As we all know, a speedy trial taking place long before the election is the absolute last thing that Donald Trump wants.
Laurence H Tribe is the Carl M Loeb University Professor of Constitutional Law Emeritus at Harvard University. Follow him on @tribelaw

Dennis Aftergut is a former federal prosecutor, currently of counsel to Lawyers Defending American Democracy