This article originally appeared on Haaretz, and was reprinted here with permission. Sign up here to get Haaretz's free Daily Brief newsletter delivered to your inbox.
Mindy Levine never attended the Jerusalem Pride Parade before. This Thursday, the religious mother of three will not only participate but also deliver one of the keynote addresses.
With the LGBTQ community feeling under growing threat from Israel's extremist new government, this year's event is likely to draw a record-breaking crowd, so there will be many eyes on her.
But more than speaking out on her own behalf, Levine will be there representing her 8-year-old child, who has emerged in recent months as a symbol of the struggles many young transgender people in Israel face – especially in the religious community.
"We're talking about people, including my kid, who are being subjected to really terrible hate just because of who they are," says the 39-year-old scientist, in an interview at her apartment in Givat Shmuel (a largely religious suburb of Tel Aviv).
"But it doesn't have to be that way," she adds. "And I want people to understand that there's no contradiction between being religious and being LGBTQ, and that there's no need to give up on either identity. That was certainly obvious to my son."
Asked why she decided to speak out publicly after so many months of keeping her identity under wraps, Levine responds: "I felt that if we shared our experiences and explained how all our decisions were based on professional consultation and a belief that what we were doing was in the best interest of our child, it could help other families in similar situations."
Levine, who grew up on Long Island and immigrated to Israel four summers ago, is a chemistry professor at Ariel University in the West Bank. She is also the founder and director of an Israeli nonprofit that encourages girls to explore the sciences. But she is probably best known these days for being the relentless mom who went to war for the right of her child to express his gender identity as he wished – and won.
She is, in fact, the first parent in Israel to take the school system to court on such grounds. And as she sees it, her court victories are not the end of the battle but just the beginning.
'What a cute boy'
Roee, as Levine calls her third and youngest child (he has two older brothers), began to identify as a boy from a very young age. "Once he was able to dress himself or express his preferences, he was reaching for my middle son's clothing," his mother recalls. "At the time, I didn't think much of it. I just thought it was because boys' clothes tend to be more comfortable."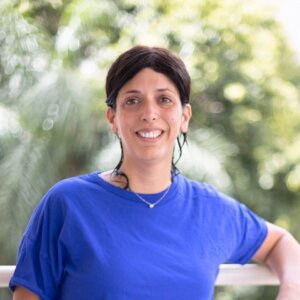 Mindy Levine at her home in the Tel Aviv suburb of Givat Shmuel. (Credit: Moti Milrod/Haaretz) Photo by Moti Milrod/Haaretz
Roee came out as a boy while the family was spending a sabbatical in Israel five years ago. He was three-and-a-half at the time.
"He used to wear his hair short and his brother's clothes, and when I'd take him to the park to play, people would often say, 'What a cute boy,'" says his mother. "I'd correct them and say this was my daughter. But one day I asked Roee whether he thought I should continue correcting them, and he said no."
A few months into their sabbatical, "Roee came home from preschool and announced to me that he had been thinking about it and realized that he was a boy," she recounts.
That evening, Levine consulted with a pediatrician friend in Massachusetts whose expertise was gender identity in adolescents.
"'This doesn't have to be complicated,' she told me. 'You just need to support him. If it turns out this is a phase, when he's done being a boy he'll tell you that, too. If it turns out he really is a boy, he needs to know that you believe him.'"
Roee's preschool teacher had a different reaction. "She looked at me like I was the craziest person in the world when I told her we wanted Roee to be treated as a boy," Levine recalls. "She told me she had been teaching preschool for 30 years and had never heard anything so ridiculous. She said she understood we were from Massachusetts, but we needed to recognize that we were in Israel now and this isn't how things are done in this country."
Levine eventually asked the municipality to intervene on her behalf so that Roee would be allowed to come to preschool dressed as a boy, with a yarmulke and tzitzit, and be permitted to use the boys' bathroom.
Not every mother would have gone along so easily with a 3.5-year-old child, and Levine has indeed been criticized – especially within the religious community – for not putting her foot down.
Her paramount concern was her child's mental health. "One of the first articles I read on the topic said that trans children supported by their nuclear families have no bigger risk of suicide than the rest of the population, but those whose families do not support them have risks that are eight-to-10 times that," she explains. "From my perspective, that was the end of the discussion."
The family returned that summer to Massachusetts, where Roee was enrolled in summer camp as a boy. A year later, her marriage having broken up, Levine fulfilled her long-standing dream of making aliyah and returned to Israel with her three children – but this time without their father.
She enrolled the boys in Moreshet Nerya, a religious public elementary school in Givat Shmuel. The district supervisor in charge of the school notified the principal that Roee was transgender and asked Levine whether she wanted the parents in his class to know. "I said I wasn't sure that it was relevant, and Roee definitely didn't want them to know because he wanted to be treated like any other boy. So I told her that unless she felt it was necessary, I didn't see a reason to tell them. She said she didn't think it was necessary."
Nor was it relevant, to this mother's mind. "I once said to someone, who wasn't very impressed with the comparison, that if I had a cisgender kid who was born with one testicle, nobody would think it was appropriate to share that level of information about his private parts," she explains. "As I see it, Roee is just a boy with unusual genitals – and once you think about it that way, it's not something that needs to be shared with other people."
For three years, while Roee was in kindergarten, first grade and second grade, none of the parents knew. Last summer, before he was about to enter third grade, Levine got a call from the principal summoning her for an urgent meeting because the other parents had somehow suddenly found out.
At the meeting, Levine was told that many parents were extremely angry that the information had been kept from them, and she was urged to place Roee in another school.
"I told them that it is completely illegal to transfer him out of a school because of his gender identity and that I have no intention of pulling him out," she recounts.
She waited until the day before school started to let Roee know their secret was out. "He was very angry, and told me that it was my job as his mother to protect him so that nobody bothered him at school."
The first day of school, Levine broke with her usual practice of dropping Roee off at the gate and accompanied him to the classroom, out of fear of possible confrontations with his classmates. There were none.
A few days later, though, she discovered that a group of parents was planning a demonstration against Roee outside the school. Rather than expose him to the protesters, Levine opted to take her boys for an outing to Jerusalem that day.
"I found it mind-boggling that sane, otherwise normal people could be protesting a child," she says. "Especially people who've known Roee for years, whose kids have been his friends – that they could think protesting the existence of my child at their school is normal, sane or appropriate by any stretch."
A group of prominent rabbis from the religious Zionist community, meanwhile, sent a letter to the Education Ministry in support of the parents. They noted that "Jewish law doesn't recognize artificial changes, and forbids the behavior and dressing of a boy as a girl or a girl as a boy."
Within a few months, under pressure from the parents, the school put in a request to have Roee transferred. Levine refused to pull him out and the local branch of the Education Ministry was asked to intervene.
After some deliberation, it sided with the school administration and ordered that Roee be transferred. Levine commissioned Michael Sfard, one of Israel's top human rights lawyers, to represent her in a suit against the Education Ministry, filed in Tel Aviv District Court. A group of parents, meanwhile, sued the school after it rejected their ultimatum that Roee either be forced to dress as a girl or a separate class be created for their sons so they did not have to study with him. That case, in which Levine was a codefendant, was filed in Lod District Court.
Levine won both cases, and Roee was allowed to remain at his school until the end of the academic year and continue dressing as a boy.
In theory, the court ruling would have allowed him to remain in the school next year as well, had he and his mother so chosen. But Levine preferred to end their relationship with Moreshet Nerya and, starting September, her son will be attending a nonreligious school for gifted children in the nearby city of Petah Tikva.
'This is our home'
The second of seven children, Levine grew up Modern Orthodox in West Hempstead, New York. She attended Jewish day schools on Long Island and spent her summers at Camp Moshava – affiliated with the Bnei Akiva religious-Zionist youth movement – in Pennsylvania's Pocono Mountains.
A graduate of Columbia University, she completed a postdoctoral fellowship at MIT and held a faculty position at the University of Rhode Island before moving to Israel.
"I wanted to make aliyah for as long as I can remember," she says, noting that she found Israel to be a "good match" for her both personality-wise and energy-wise. "I'm a bit pushy and aggressive for U.S. standards," she explains.
Levine was recently asked by one of the more supportive parents in Roee's class whether, following her ordeal, she was thinking about moving back to the United States. "I thought it was a ridiculous question," she says. "I told him it wasn't even on the table – that this is where we live, that this is our home and that I have no intention whatsoever of leaving Israel."
When trying to figure out the best way to cope with her child's gender dysphoria, Levine consulted not only with psychologists and doctors, but also with rabbis back in the United States. "The rabbis we spoke to were of the opinion that not affirming the gender identity of our kid could be life-threatening," she says, "so from our perspective that was pretty much the end of the discussion."
Has the behavior of the parents at her child's religious school forced her to question her affiliation with the Orthodox community? "There's a lot about religion, or the way that it's currently practiced, that I find troubling," she responds. "I think that as a whole the religious community's treatment of LGBTQ people is abhorrent. Like literally, what do people think they are accomplishing besides making children and adults, and anybody who is part of this community, depressed and suicidal?"
On the other hand, she praises the openness of the Orthodox rabbis she consulted with in the United States and is tremendously appreciative of the support she is receiving from Havruta – an organization that serves Israel's Orthodox LGBTQ community. "It shows that there's a vocal minority within the religious community that sees things differently," she says.
When Levine recently took her son on a tour of his new school in Petah Tikvah, the first thing he did after taking a look around the premises was to remove his yarmulke and stuff it into his pocket. "A not small part of me thinks he's not going to want to stay religious," his mother laments.
Does that upset her?
"Yes," she says. "A lot."
The post 'The religious community's treatment of LGBTQ people is abhorrent' appeared first on The Forward.