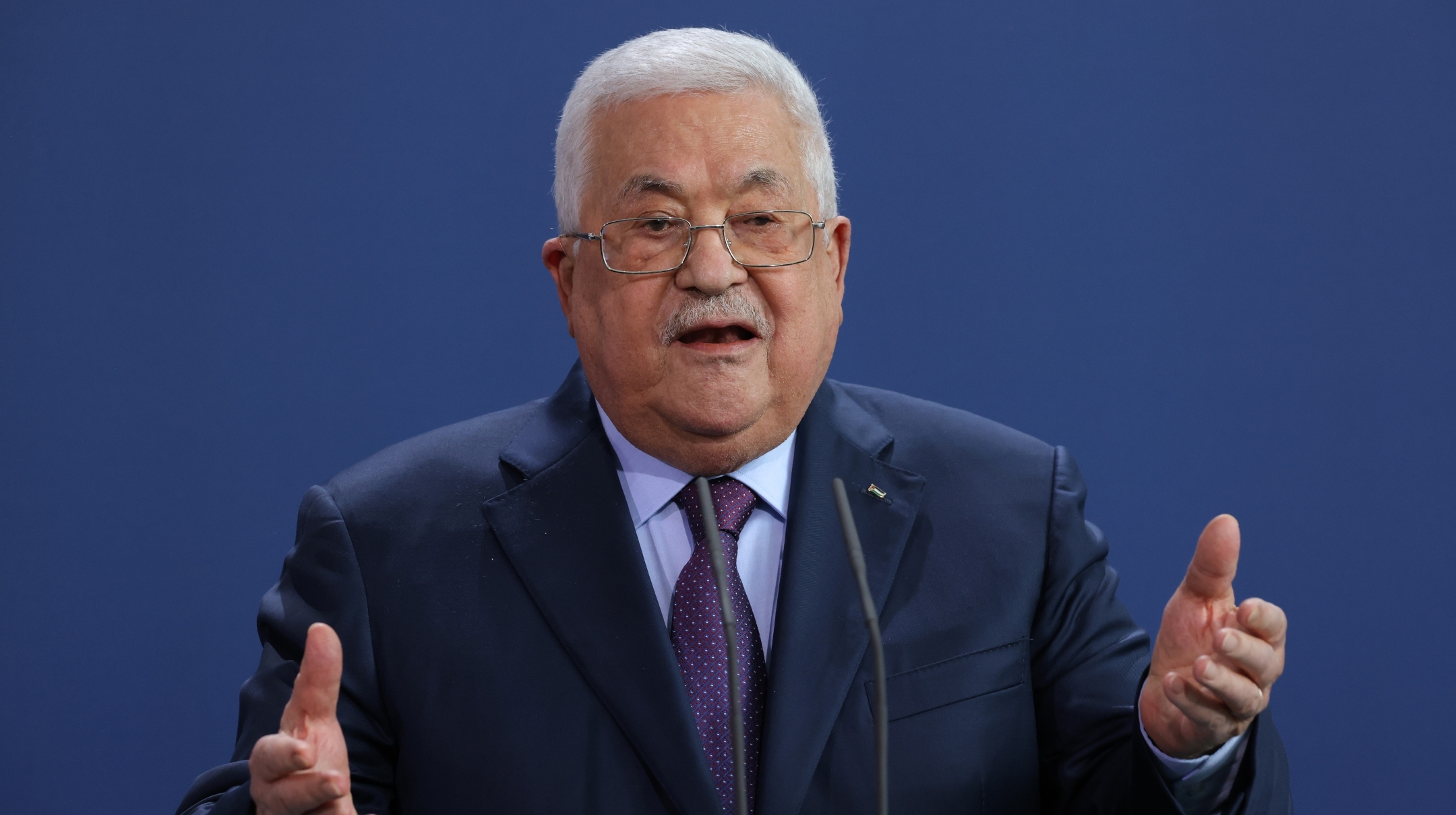 This article originally appeared on Haaretz, and was reprinted here with permission. Sign up here to get Haaretz's free Daily Brief newsletter delivered to your inbox.
Adolf Hitler chose to "fight" Jews because of "their social role" and not due to their Judaism, Palestinian President Mahmoud Abbas said at a conference in late August.
Abbas took part in Fatah's Revolutionary Council last month and his speech was published by The Middle East Media Research Institute (MEMRI) – a Washington-based think tank.
"They say that Hitler killed the Jews for being Jews, and that Europe hated the Jews because they were Jews. Not true," Abbas said, adding his own explanations for the Holocaust.
"It was clearly explained that [the Europeans] fought [the Jews] because of their social role, and not their religion. Several authors wrote about this. Even Karl Marx said this was not true. He said that the enmity was not directed at Judaism as a religion, but to Judaism for its social role," Abbas said.
"The [Europeans] fought against these people because of their role in society, which had to do with usury, money, and so on and so forth…[Hitler] said he fought the Jews because they were dealing with usury and money. In his view, they were engaged in sabotage, and this is why he hated them. We just want to make this point clear. This was not about Semitism and antisemitism."
In his address, Abbas ignored the Nazi race theory, which was a modern incarnation of classical anti-Semitism of the Middle Ages, and treated the Jews as a racially and culturally inferior anti-race that aspires for world domination.
Palestinian President Mahmoud Abbas: Hitler Fought the European Jews Because of Their Usury, Money Dealings, It Was Not about Antisemitism; Jews from Arab Countries Did Not Want to Emigrate, But Were Forced to Do So by Israel #Antisemitism @PalestinePMO pic.twitter.com/k75UmycuyM

— MEMRI (@MEMRIReports) September 6, 2023
Dani Dayan, the embattled head of the Yad Vashem Holocaust Museum in Jerusalem, called Abbas' statement "not only an example of Holocaust denial and distortion, they use deeply entrenched antisemitic stereotypes." Dayan added that "These reprehensible remarks must be unequivocally condemned by global leaders. We can't stay silent."
Germany's ambassador to Israel, Steffen Seibert, also condemned Abbas' remarks, saying it's "an insult to the memory of millions of murdered men, women and children," adding that the Palestinians "deserve to hear the historical truth from their leader, not such distortions."
On Thursday, the EU issued a statement saying that Abass's speech "contained false and grossly misleading remarks about Jews and anti-Semitism… Such historical distortions are inflammatory …[and] play into the hands of those who do not want a two-state solution… They trivialize the Holocaust and…are an insult to the millions of victims of the Holocaust and their families."
During his speech in August, Abbas spoke about the history of the Jewish people from his viewpoint, including being persecuted by Christians and harassing Palestinians in present day Israel. But Abbas' viewpoint included half-truths and data taken out of context in order to serve the narrative he was trying to advance.
At first, Abbas claimed Jews of European are not Semitic people and said: "The truth that we should clarify to the world is that European Jews are not Semites. They have nothing to do with Semitism." According to Abbas, Sephardi Jews [Mizrahi] can indeed be considered Semitic, though he claimed that Israel's first prime minister, David Ben-Gurion, didn't want those Jews to make Aliyah to Israel.
Abbas took the matter one step further, saying that in 1949 Ben-Gurion had reached out to Winston Churchill, who at the time was not Prime Minister of the U.K., and asked that he send Jews from Europe. According to Abbas, Ben-Gurion had complained to Churchill that while Jews hold most of the areas of Palestine, most of the territory was empty and not settled by Jews.
"650,000 [Jewish Israelis] were not enough, so Ben-Gurion complained to the British, to his friend Churchill. He said: 'Man, I have a problem. Get me the Jews from Europe. I'm short [of people]. I have this vast land, but no population.'"
"[Churchill] said: 'I cannot get you the European Jews. After the World War, they immigrated to different places, or settled [in Europe], or were killed. The only ones I can get you are the Jews of the Arab countries.' But Churchill said that there was no one else. Ben-Gurion said: 'God forbid! Do me a favor, I don't want the Jews of the Arab countries.'"
Abbas continued, saying that Ben-Gurion told him "Brother, those Jews of the Arab countries are just like the Arabs. They look like Arabs. They have the same culture, same food. I don't want them," to which Churchill replied: "Do whatever you want. There is no other solution."
Abbas based his claims on the Zionist leadership's aversion toward the Sephardi Jews, which included racist and humiliating nicknames, and on its attempt to select from among the immigrants only those suitable to a determined specific standard.
According to Abbas, Ben-Gurion sought to force Sephardi Jews to immigrate to Israel against their will and even tried to physically harm them by ordering attacks on synagogues in Iraq, Egypt, Morocco and other countries. "The [Sephardi] Jews did not want to emigrate but were forced to do so by means of pressure, coercion, and murder," he said.
Abbas's claims echo conspiracies that were prevalent at the time – some even today – that Israel attempted to speed up the immigration of Iraqi Jews by a series of attacks in 1951 in which members of the community were murdered in Baghdad.
Ben-Gurion and the Mossad denied these allegations, claiming that the attacks were carried out by Muslim assailants. The conspiracy theory was "strengthened," however, by a major political scandal known as the Lavon Affair or esek habish (Hebrew for "the rotten business") – a failed Israeli attempt to destabilize Egypt's government during the 1950s by carrying out attacks that would be attributed to a local Egyptian terror unit.
During a visit to Germany last year, Abbas drew harsh criticism after he claimed that Israel had committed "fifty holocausts" to the Palestinians. A day after Abbas' accusations, German chancellor Scholz condemned the claims, tweeting he was "disgusted by outrageous remarks made by Palestinian President Mahmoud Abbas."
Similar claims were heard from Abbas also during the National Palestinian Council in Ramallah in 2018, when he said that Jews in Europe were exposed to pogroms not because of their religion, but because of their social role and financial matters.
Abbas attributed the claim to Jewish scholars and said that factually, "such pogroms did not take place in Arab nations, which had Jewish communities."
Earlier in 2018, Abbas said in Ramallah that "after the Holocaust, Europe wanted to solve the Jews' problem at our expense." Israel's former President Reuven Rivlin accused him of saying "exactly the same things for which he was accused years ago of anti-Semitism and Holocaust denial."
The post The Holocaust wasn't fueled by antisemitism, Hitler hated Jews for their money, says Palestinian President Mahmoud Abbas appeared first on The Forward.