#DOJ DOJ #FBI FBI #CIA CIA #DIA DIA #ODNI ODNI https://t.co/PH3LtsdUTH #News #Times #NewsAndTimes #NT #TNT Putin Russia #Putin #Russia #GRU GRU #Israel Israel

The Informational Component (Cyber Attacks and Social Media Misinformation, etc.) of the Gaza War 2023 is the… pic.twitter.com/1rgv5HVfgS

— Michael Novakhov (@mikenov) October 25, 2023

–
Michael Novakhov's favorite articles 
While Twitter has always struggled with combating misinformation about major news events, it was still the go-to place to find out what's happening in the world. But the Israel-Hamas war has underscored how the platform now transformed into X has become not only unreliable but is actively promoting falsehoods.
Experts say that under Elon Musk the platform has deteriorated to the point that it's not just failing to clamp down on misinformation but is favoring posts by accounts that pay for its blue-check subscription service, regardless of who runs them.
If such posts go viral, their blue-checked creators can be eligible for payments from X, creating a financial incentive to post whatever gets the most reaction — including misinformation.
Ian Bremmer, a prominent foreign policy expert, posted on X that the level of disinformation on the Israel-Hamas war "being algorithmically promoted" on the platform "is unlike anything I've ever been exposed to in my career as a political scientist."
And the European Union's digital enforcer wrote to Musk about misinformation and "potentially illegal content" on X, in what's shaping up to be one of the first major tests for the 27-nation bloc's new digital rules aimed at cleaning up social media platforms. He later sent a similar, though toned-down, version of the letter to CEO Mark Zuckerberg of Meta, which owns Facebook and Instagram.
While Musk's social media site is awash in chaos, rivals such as TikTok, YouTube and Facebook are also coping with a flood of unsubstantiated rumors and falsehoods about the conflict, playing the usual whack-a-mole that emerges every time a news event captivates the world's attention.
"People are desperate for information and social media context may actively interfere with people's ability to distinguish fact from fiction," said Gordon Pennycook, an associate professor of psychology at Cornell University who studies misinformation.
For instance, instead of asking whether something is true, people might focus on whether something is surprising, interesting or even likely to make people angry — the sorts of posts more likely to elicit strong reactions and go viral.
The liberal advocacy group Media Matters found that since Saturday, subscribers to X's premium service shared at least six misleading videos about the war. This included out-of-context videos and old ones purporting to be recent — that earned millions of views.
TikTok, meanwhile, is "almost as bad" as X, said Kolina Koltai, a researcher at the investigative collective Bellingcat. She previously worked at Twitter on Community Notes, its crowd-sourced fact-checking service.
But unlike X, TikTok has never been known as the No. 1 source for real-time information about current events.
"I think everyone knows to take TikTok with a grain of salt," Koltai said. But on X "you see people actively profiteering off of misinformation because of the incentives they have to spread the content that goes viral — and misinformation tends to go viral."
Emerging platforms, meanwhile, are still finding their footing in the global information ecosystem, so while they might not yet be targets for large-scale disinformation campaigns, they also don't have the sway of larger, more established rivals.
Meta's Threads, for instance, is gaining traction among users fleeing X, but the company has so far tried to de-emphasize news and politics in favor of more "friendly" topics.
"One of the reasons why you're not hearing a lot about Facebook is because they have something called demotions," said Alexis Crews, a resident fellow at the Integrity Institute who worked at Meta until this spring. If something is labeled as misinformation, the system will demote it and send it to independent fact-checkers for assessment. Crews cautioned that if Meta — which has been cutting costs and laid off thousands of workers — deprioritizes its fact-checking program, misinformation could flood its platforms once again. The Associated Press is part of Meta's fact-checking program.
Meta and X did not immediately respond to AP requests for comment. TikTok said in a statement that it has dedicated resources to help prevent violent, hateful or misleading content, "including increased moderation resources in Hebrew and Arabic." The company said it also works with independent fact-checkers to help assess the accuracy of material posted to its platform.
A post late Monday from X's safety team said: "In the past couple of days, we've seen an increase in daily active users on @X in the conflict area, plus there have been more than 50 million posts globally focusing on the weekend's terrorist attack on Israel by Hamas. As the events continue to unfold rapidly, a cross-company leadership group has assessed this moment as a crisis requiring the highest level of response."
While plenty of real imagery and accounts of the carnage have emerged, they have been intermingled with social media users pushing false claims and misrepresenting videos from other events.
Among the fabrications are false claims that a top Israeli commander was kidnapped, a doctored White House memo purporting to show U.S. President Joe Biden announcing billions in aid for Israel, and old unrelated videos of Russian President Vladimir Putin with inaccurate English captions. Even a clip from a video game was passed on as footage from the conflict.
"Every time there is some major event and information is at a premium, we see misinformation spread like wildfire," Pennycook said. "There is now a very consistent pattern, but every time it happens there's a sudden surge of concern about misinformation that tends to fade away once the moment passes."
"We need tools that help build resistance toward misinformation prior to events such as this," he said.
For now, those looking for a central hub to find reliable, real time information online might be out of luck. Imperfect as Twitter was, there's no clear replacement for it. This means anyone looking for accurate information online needs to exercise vigilance.
In times of big breaking news such as the current conflict, Koltai recommended, "going to your traditional name brands and news media outlets like AP, Reuters, who are doing things like fact checking" and active reporting on the ground.
Meanwhile, in Europe, major social media platforms are facing stricter scrutiny over the war.
Britain's Technology Secretary Michelle Donelan summoned the U.K. bosses of X, TikTok, Snapchat Google and Meta for a meeting Wednesday to discuss "the proliferation of antisemitism and extremely violent content" following the Hamas attack.
She demanded they outline the actions they're taking to quickly remove content that breaches the U.K.'s online safety law or their terms and conditions.
European Commissioner Thierry Breton warned in his letter to Musk of penalties for not complying with the EU's new Digital Services Act, which puts the biggest online platforms like X, under extra scrutiny and requires them to make it easier for users to flag illegal content and take steps to reduce disinformation — or face fines up to 6% of annual global revenue.
Musk responded by touting the platform's approach using crowdsourced factchecking labels, an apparent reference to Community Notes.
"Our policy is that everything is open source and transparent, an approach that I know the EU supports," Musk wrote on X. "Please list the violations you allude to on X, so that the public can see them."
Breton replied that Musk is "well aware" of the reports on "fake content and glorification of violence."
"Up to you to demonstrate that you walk the talk," he said.
___
Kelvin Chan in London contributed to this report.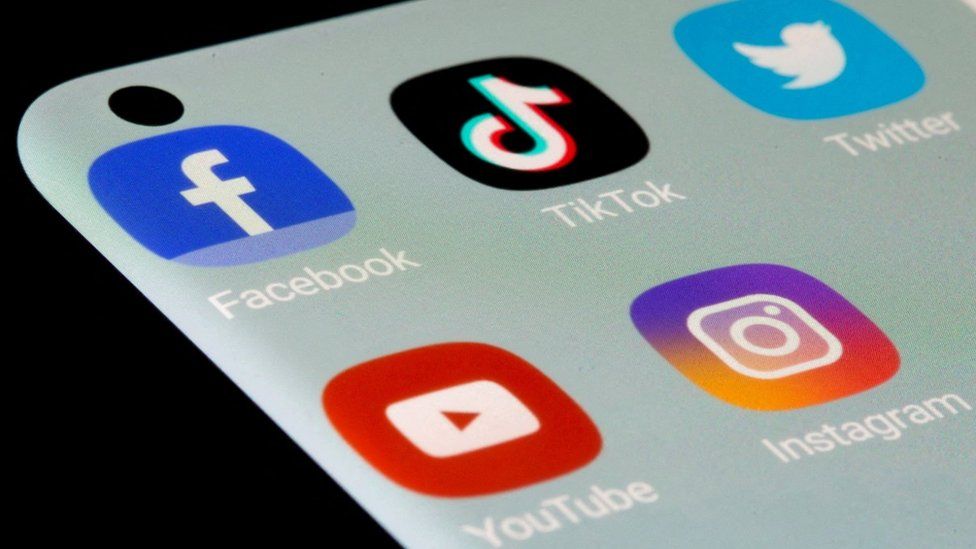 Reuters
Social media has been awash with false claims, conspiracy theories and hateful content surrounding what's happening in Israel and Gaza – and questions over whether inauthentic accounts are being used to manipulate the conversation.
As violence unfolds on the ground, I've been looking into who is behind this.
When I opened up my TikTok For You Page earlier this week, I was met with a video showing a young Israeli woman being taken hostage by Hamas fighters on 7 October. The footage was shocking.
When I scrolled through the comments, the reaction was not what I expected.
While some were distressed by the post, other users falsely suggested this footage was not what it seemed.
They said the woman in it is "not a civilian" but a soldier, or that the clips had been staged to frame Hamas.
Some claimed there's no evidence the group have acted violently towards hostages.
The clip, which has been verified by the BBC, shows a young woman covered in blood being pushed into a car by armed men. It was filmed on the outskirts of Gaza City in Sheijia.
I scrolled through several more videos and posts about hostages on other social media sites and spotted similar comments.
Disinformation is not limited to accounts seeking to undermine violence against hostages, either. Profiles supporting the actions of the Israeli government have also shared misleading and hateful content.
Israeli soldiers patrol the area of an attack that killed more than 260 people at a music festival
One account I came across this weekend shared a video falsely suggesting Palestinian people were faking their injuries in Gaza. The footage was actually from a 2017 report about a makeup artist working on Palestinian films and with charities.
All of these claims were not just shocking to me – they affect the wider understanding of what's happening.
Successful attempts to distort and confuse the online conversation make it a lot harder to get to the truth of what's unfolding on the ground if you're relying on social media for updates.
That can have serious implications for the international community when it comes to investigating allegations of war crimes, providing aid and figuring out what's happening where.
Sometimes, the source of these misleading posts is easier to identify.
Take, for example, celebrities, like popstar Justin Bieber, who inadvertently shared a post on Instagram asking people to "pray for Israel' – but used images showing the destruction of Gaza by Israeli forces.
Several accounts on X (formerly known as Twitter) with a track record of pushing conspiracy theories about crises have amplified misleading posts in what seems to be a bid to either downplay or exaggerate what's happening on the ground.
That includes sharing old videos from different wars and footage from video games, which the accounts claim is from the current situation in Israel and Gaza.
Some very active accounts on X sharing pro-Israel content and anti-Muslim posts appear to be based in India and express support for the country's Prime Minister Narendra Modi.
I want to try to get to the bottom of the profiles whose identities and locations are less obvious.
Several of the accounts suggesting that hostages were soldiers rather than civilians seem to belong to real, younger people. They have otherwise shared funny memes or football clips to their profiles.
Some have posted pictures with slogans like "Free Palestine". When I message them they tell me they are based in Pakistan and the United Arab Emirates.
For some profiles, whether they're real people is less obvious.
A handful have posted about an eclectic mix of political topics; in support of Russian President Putin and the war in Ukraine, as well as about former US President Donald Trump. Several of these accounts are newly set up or have recently become active.
In the past, both the Israeli government and Hamas militants have faced accusations of trying to distort online narratives with "bot" networks – inauthentic accounts used to repeatedly push divisive or misleading ideas.
According to Cyabra, a company based in Israel that analyses social media, one in five accounts taking part in conversations about the attacks committed by Hamas since 7 October are fake.
"Fake" in this context can mean they are automatically operated – but others could also be run by real people posing under false identities.
The company says they've found approximately 40,000 fake accounts, including on X and TikTok.
It says some of these profiles have been spreading misleading claims in support of Hamas and suggesting – for example – that militants were compassionate to hostages in situations where evidence suggests otherwise. That does not rule out the existence of inauthentic pro-Israel accounts, too.
There are clues we can use to identify an account as inauthentic. For example, if a profile is newly set up and is suddenly sharing a large amount of divisive, misleading and at times conflicting content.
Ultimately, though, determining whether a profile is actually fake and who exactly is behind it is a very difficult task. It requires information from the social media companies that journalists don't often have access to.
Ray Serrato, who tackled state-sanctioned campaigns at the social media company, told me how his former team was "decimated" after the takeover.
According to him, that means a number of key experts who "covered special regions" – including in the Middle East – and whose job it was to deal with specific co-ordinated disinformation operations, are no longer at the company.
X has not responded to the BBC's request for comment. The social media site this week said it had removed hundreds of Hamas-affiliated accounts from the platform.
In TikTok's Community Guidelines, the company says it has "increased dedicated resources to help prevent violent, hateful, or misleading content on TikTok" in relation to the current situation.
The way that disinformation spreads on X, TikTok and other platforms can shape the general public's view of the situation in both Gaza and Israel.
That in turn could also put pressure on the politicians making big decisions about what's unfolding.
Palestinian group Hamas' top leader, Ismail Haniyeh meets with Iran's Supreme Leader Ayatollah Ali Khamenei (not pictured), in Tehran, Iran June 21, 2023. Office of the Iranian Supreme Leader/WANA (West Asia News Agency) via REUTERS/File photo Acquire Licensing Rights
Oct 7 (Reuters) – Ismail Haniyeh, the leader of the Palestinian Islamist group Hamas, told fellow Arab countries on Saturday that Israel cannot provide them with any protection despite recent diplomatic rapprochements.
Hamas launched the biggest attack on Israelin years on Saturday, killing dozens of people and taking hostages in a surprise assault that combined gunmen crossing into Israel with a barrage of rockets fired from the Gaza Strip.
Israel said the Iran-backed group had declared war as its army confirmed fighting with militants in several Israeli towns and military bases near Gaza, and Prime Minister Benjamin Netanyahu vowed to retaliate.
In a televised speech, Haniyeh addressed the Arab countries that have normalised ties with Israel in recent years.
"We say to all countries, including our Arab brothers, that this entity, which cannot protect itself in the face of resistors, cannot provide you with any protection," he said.
"All the normalization agreements that you signed with that entity cannot resolve this (Palestinian) conflict."
In 2020, Israel reached normalisation with the United Arab Emirates and Bahrain, and upgraded ties with Morocco and Sudan, despite talks with the Palestinians being frozen for years.
Regional powerhouse Saudi Arabia and Israel are also engaged in U.S.-mediated talks to normalise relations, a prospect that drew condemnation from some Palestinian factions.
Haniyeh also said armed Palestinian factions intend to expand the ongoing battle in Gaza to the West Bank and Jerusalem. "The battle moved into the heart of the 'zionist entity'" he said.
Reporting by Hatem Maher and Nidal al-Mughrabi; Editing by Nick Macfie
Our Standards: The Thomson Reuters Trust Principles.
Selected Articles – The News And Times