Michael Novakhov's favorite articles 
The former Ukrainian president Petro Poroshenko told Euractiv he was "absolutely sure" that instructors from the Russian mercenary group Wagner were transferred from Syria to Gaza to help prepare the terrorist attacks on Israel on 7 October.
Poroshenko, president from 2014 to 2019 and now heads the European Solidarity party, was visiting Brussels ahead of an expected decision by the EU Commission on 8 November to greenlight the start of Ukraine's accession talks.
In an exclusive interview on Wednesday (11 October), he warned that "not everybody should think the decision is in our pocket".
Asked about what appears to be sabotage on the Balticconnector pipeline and telecommunications cable linking Finland to Estonia, qualified by the authorities in Helsinki as damage caused by "outside activity", he said:
"I'm absolutely convinced that this is a terrorist attack, the aim of which is to destabilise the energy situation in Europe, in the same way Russia attacks with missiles the energy system of Ukraine."
He said the same Russian signature was seen in the assault the Islamist militant group Hamas launched on Israel last weekend.
"I'm absolutely convinced that there is Russian interest, Russian hands, in the preparation of the Hamas terror attack on Israel."
Though without concrete proof, he said he knew very well how Wagner mercenaries operate.
"I have known it since 2014 when the first Wagner group appeared in the east of my country. I know the signature of Wagner from their attacks in Lysychansk, Severodonetsk, Soledar, Bakhmut. This is exactly Wagner tactics."
"I'm absolutely sure that the Russian Wagner instructors in Syria were transferred to Hamas in Gaza and participated in the training of terrorists to prepare the absolutely barbaric attack on Israel from the Gaza strip."
How to deal with Putin
Asked about his personal impressions of Russian President Vladimir Putin, whom he met many times, including for the negotiation of the now defunct Minsk agreement following Russia's occupation of Donbas, he said:
"I have several conclusions. Conclusion number one: never trust Putin. Putin is a KGB officer who especially learned how to lie. Number two: never ever be afraid of Putin. Because if you are afraid, you lose. Number three, keep in mind that Putin understands only one language: strength. This is why he will go only as far as we allow him to."
Poroshenko said the best negotiator with Russia was the armed forces Ukraine has built.
The security of Europe, he said, resided in the "blue and yellow shield of Ukraine", which he said was strengthened under his presidency.
The strongest army in Europe
"I'm proud that I created with the people of Ukraine the strongest, the most efficient armed forces of Europe," he said.
He said that as a leader of the second largest political party force, his mission was to be "a watchdog" for the progress of reforms and civil society's power.
Challenged with the question about a pessimistic scenario, in which the war in the Middle East would eclipse the war in his country while the prospects for NATO and EU enlargement would fade, he said such doubts only fueled Putin's narrative.
"Stop talking about fatigue. If you feel fatigue from Ukraine, it means you feel fatigue from freedom, you feel fatigue from democracy, you feel fatigue from the EU, from NATO, in favour of Putin".
"And please stop thinking that you are helping Ukraine. You are also helping yourself, you are investing in your own security", he said.
"For us, NATO is life, it's survival, for Ukraine, NATO means life", he repeated.
Nuclear arsenal again?
Asked if Ukraine made a mistake back in 1994 when it gave up the nuclear weapons on its soil under the Budapest memorandum, he said:
"That happened almost 30 years ago. But I agree that the positions of the Ukrainian negotiator would be much stronger if we had nuclear weapons. Even more: if Ukraine had had nuclear weapons, Putin would have never attacked us."
Asked if Ukraine should develop a new nuclear arsenal again, given its experience and potential, especially if the NATO candidacy fails, he gave an answer suggesting that plan A was NATO accession.
"Ukraine will fight for our independence. Ukraine will fight for our existence. No matter if or without any assistance. But it would be much more efficient than nuclear weapons to have NATO membership. Without Ukrainian membership in NATO, war will be never-ending."
Poroshenko leads a foundation which he said has gathered from the companies he previously created as a businessman $100 million for the armed forces of Ukraine since the start of the Russian aggression.
Due to the sensitivity of the issues discussed, the transcript of the interview was double-checked by his cabinet.
[Edited by Zoran Radosavljevic]
A view shows smoke in the Gaza Strip as seen from Israel's border with the Gaza Strip, in southern Israel October 18, 2023. REUTERS/Amir Cohen Acquire Licensing Rights
DUBAI/WASHINGTON, Oct 18 (Reuters) – Israel is vowing to wipe out Hamas in a relentless onslaught on the Gaza Strip but has no obvious endgame in sight, with no clear plan for how to govern the ravaged Palestinian enclave even if it triumphs on the battlefield.
Codenamed "Operation Swords of Iron", the military campaign will be unmatched in its ferocity and unlike anything Israel has carried out in Gaza in the past, according to eight regional and Western officials with knowledge of the conflict who declined to be named due to the sensitivity of the matter.
Israel has called up a record 360,000 reservists and has been bombarding the tiny enclave non-stop following Hamas's assault on southern Israel on Oct. 7, which killed about 1,400 people, mostly civilians.
The immediate Israeli strategy, said three regional officials familiar with discussions between the U.S. and Middle Eastern leaders, is to destroy Gaza's infrastructure, even at the cost of high civilian casualties, push the enclave's people towards the Egyptian border and go after Hamas by blowing up the labyrinth of underground tunnels the group has built to conduct its operations.
Israeli officials have said that they don't have a clear idea for what a post-war future might look like, though.
Some of U.S. President Joe Biden's aides are concerned that while Israel may craft an effective plan to inflict lasting damage to Hamas, it has yet to formulate an exit strategy, a source in Washington familiar with the matter said.
Trips to Israel by Secretary of State Antony Blinken and Defense Secretary Lloyd Austin this past week had stressed the need to focus on the post-war plan for Gaza, the source added.
Arab officials are also alarmed that Israel hasn't set out a clear plan for the future of the enclave, ruled by Hamas since 2006 and home to 2.3 million people.
"Israel doesn't have an endgame for Gaza. Their strategy is to drop thousands of bombs, destroy everything and go in, but then what? They have no exit strategy for the day after," said one regional security source.
An Israeli invasion has yet to start, but Gaza authorities say 3,500 Palestinians have already been killed by the aerial bombardment, around a third of them children – a larger death toll than in any previous conflict between Hamas and Israel.
Biden, on a visit to Israel on Wednesday, told Israelis that justice needed to be served to Hamas, though he cautioned that after the 9/11 attacks on New York, the U.S. had made mistakes.
The "vast majority of Palestinians are not Hamas", he said. "Hamas does not represent the Palestinian people."
Aaron David Miller, a Middle East expert at the Carnegie Endowment for International Peace, said Biden's visit would have given him a chance to press Israeli leader Benjamin Netanyahu to think through issues such as the proportional use of force and the longer-term plans for Gaza before any invasion.
'CITY OF TUNNELS'
Israeli officials, including Netanyahu, have said they will wipe out Hamas in retribution for the Oct. 7 killings, the deadliest militant attack in Israel's 75-year-old history.
What will follow is less defined.
"We are of course thinking and dealing with this, and this involves assessments and includes the National Security Council, the military and others about the end situation," Israeli National Security Council director Tzachi Hanegbi told reporters on Tuesday. "We don't know what this will be with certainty."
"But what we do know is what there will not be," he said, referring to Israel's stated aim to eradicate Hamas.
This might be easier said than done.
"It's an underground city of tunnels that make the Vietcong tunnels look like child's play," said the first regional source, referring to the Communist guerrilla force that defied U.S. troops in Vietnam. "They're not going to end Hamas with tanks and firepower."
Two regional military experts told Reuters that Hamas's armed wing, the Ezzedine al-Qassam Brigades, has mobilised for an invasion, setting up anti-tank mines and booby-trapped explosive devices to ambush troops.
Israel's coming offensive is set to be much bigger than past Gaza operations that Israeli officials had previously referred to as "mowing the grass", degrading Hamas's military capabilities but not eliminating it.
Israel has fought three previous conflicts with Hamas, in 2008-9, 2012 and 2014, and launched limited land invasions during two of those campaigns, but unlike today, Israel's leaders never vowed to destroy Hamas once and for all.
In those three confrontations, just under 4,000 Palestinians and fewer than 100 Israelis died.
There is less optimism in Washington, though, that Israel will be able to completely destroy Hamas and U.S. officials see little chance that Israel will want to hold on to any Gaza territory or re-occupy it, the U.S. source said.
A more likely scenario, the person said, would be for Israeli forces to kill or capture as many Hamas members as they can, blow up tunnels and rocket workshops, then after Israeli casualties mount, look for a way to declare victory and exit.
CLOUDS OF WAR
The fear across the region is that the war will blow up beyond the confines of Gaza, with Lebanon's Hezbollah and its backer Iran opening major new fronts in support of Hamas.
Iranian Foreign Minister Hossein Amir-Abdollahian warned of a possible "preemptive" action against Israel if it carried out its invasion of Gaza. He said last weekend that Iran would not watch from the sidelines if the U.S. failed to restrain Israel.
Arab leaders have told Blinken, who has been criss-crossing the region this past week, that while they condemn Hamas's attack on Israel, they oppose collective punishment against ordinary Palestinians, which they fear will trigger regional unrest.
Popular anger will ratchet up across the region when the body count rises, they said.
Washington has sent an aircraft carrier strike group to the eastern Mediterranean and is concerned that Hezbollah might join the battle from Israel's northern border. There has been no sign, however, that the U.S. military would then move from a deterrent posture to direct involvement.
The regional sources said Washington was proposing to re-energise the Palestinian Authority (PA), which lost control of Gaza to Hamas in 2007, although there is huge doubt whether the PA or any other authority would be able to govern the coastal enclave should Hamas be driven out.
Miller, a former U.S. Middle East negotiator, expressed deep skepticism about the potential for establishing a post-Hamas government to rule Gaza.
"I could paint you a picture more appropriate to a galaxy far, far away and not on planet Earth on how you could combine the U.N., the Palestinian Authority, the Saudis, the Egyptians, led by the U.S. marshalling the Europeans, to basically convert Gaza from an open-air prison to something much better," he said.
In the meantime, calls for the creation of humanitarian corridors within Gaza and escape routes for Palestinian civilians have drawn a strong reaction from Arab neighbors.
They fear an Israeli invasion will spark a new permanent mass wave of displacement, a replay of the 1948 Israeli war of independence and 1967 Arab-Israeli war. Millions of Palestinians who were forced to flee then have remained stranded as refugees in the countries that hosted them.
Egyptian President Abdel Fattah al-Sisi said he rejected the forced displacement of Palestinians from their land into the Sinai peninsula bordering Gaza, adding that any such move would turn the area into a base for attacks against Israel. He said Egyptians in their millions would protest against any such move.
East Jerusalem, captured by Israel in the 1967 war and then annexed, and Israeli settlement expansion across occupied territory are at the core of the conflict with Palestinians. Netanyahu has openly embraced the religious and radical far-right, promising to annex more land to be settled by Jews.
Hundreds of Palestinians have died in the West Bank since the start of the year in repeated clashes with Israeli soldiers and settlers, and there is widespread concern that the violence might engulf the territory as nearby Gaza burns.
"Whatever worst-case scenario you have, it will be worse," a second regional source said about the potential for the conflict to spread beyond Gaza.
Aditional reporting by Humeyra Pamuk in Washington, Jonathan Saul in Jerusalem and Andrew Mills; Editing by Crispian Balmer, Pravin Char and Nick Macfie
Our Standards: The Thomson Reuters Trust Principles.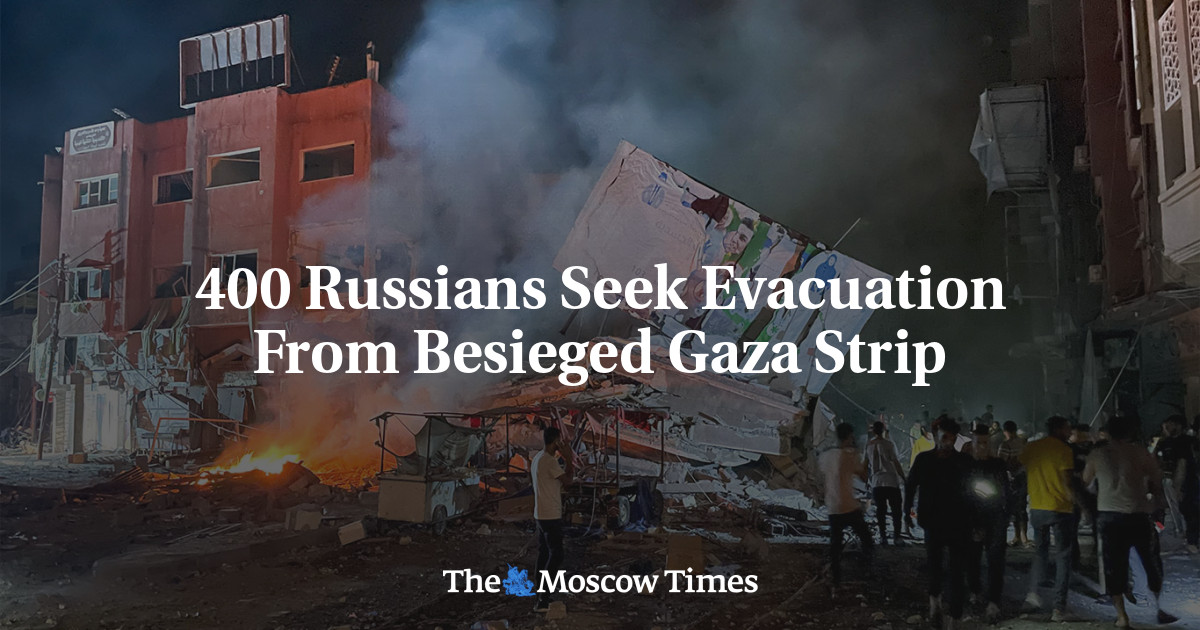 Around 400 Russian nationals are seeking to evacuate the Gaza Strip as the Israeli military continues to bombard the coastal enclave in retaliation to Hamas' surprise attack, Russia's diplomatic mission in Palestine said Thursday.
Alia Zaripova, the spokeswoman for Russia's representative mission in Ramallah, said Moscow was working to evacuate its citizens from the besieged territory, according to the state-run TASS news agency.
An additional 110 citizens of Palestine, Belarus, Ukraine, Moldova and Kazakhstan have also requested assistance from the Russian office with evacuations, Zaripova said.
The United Nations humanitarian office OCHA says nearly 340,000 Palestinians have been displaced in the unfolding humanitarian crisis.
Russian Foreign Ministry spokeswoman Maria Zakharova said Moscow was working with the Egyptian government to organize the evacuation of its citizens from the Gaza Strip.
At the same time, Israel's Ambassador to Russia Alexander Ben Zvi said Tel Aviv was in talks with Cairo on opening the border post with Gaza to allow civilian evacuations.
It has been six days since Hamas fighters stormed into southern Israel, killing at least 1,200 Israelis, mostly civilians, and taking around 150 hostages in an unprecedented attack.
In retaliation, Israel has pounded Gaza with airstrikes, leveling entire city blocks and killing at least 1,100 people.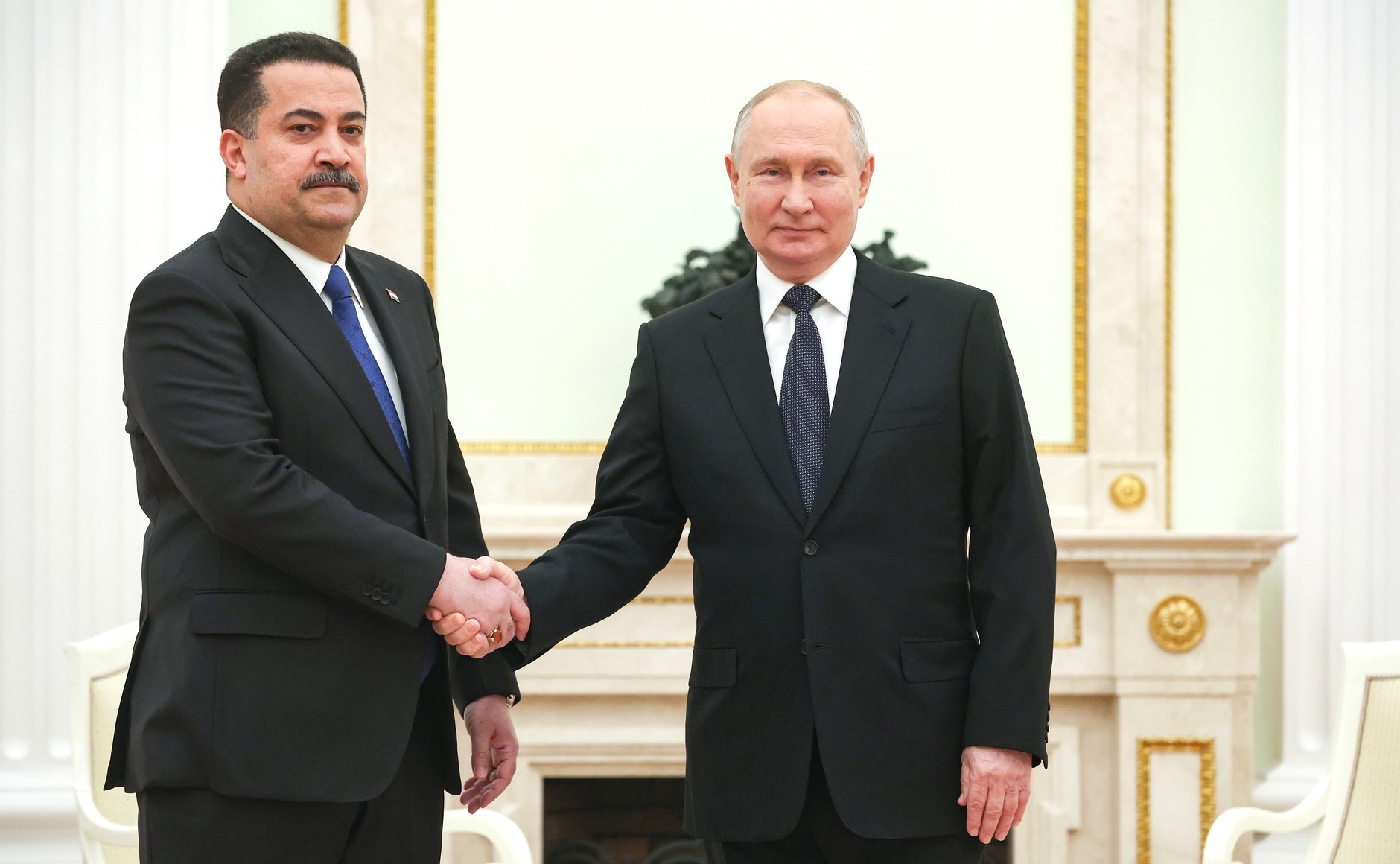 Russia's war against Ukraine crosses the 600-day mark today, and the fighting between Israel and the Hamas terrorists based in Gaza is on its tenth day. The effects of the latter on the former are still emerging. The interplay between these two major breakdowns in the world order is certain to be strong. Russian President Vladimir Putin already is seeking opportunities to benefit from the new turmoil. His immediate gain is the obvious diversion of international attention from Russia's continuing aggression in Ukraine (Topwar.ru, October 13). The Kremlin's hopes are fixated on the possible sustained reduction of US military aid to Ukraine caused by the urgent need to deliver various arms, particularly missile defense systems, to Israel (Izvestiya, October 12; TASS, October 12).
These hopes were dampened by the recent meeting of the Ramstein working group of Western military supporters of Ukraine led by US Defense Secretary Lloyd Austin. On October 12, he announced a new aid package and confirmed that commitments to Ukraine would not be diminished by aid to Israel (NV.ua, October 12). Russian commentators have tried to portray the deadlock in the US House of Representatives as a consequence of deep disagreements in the American political class over the scale of financing for Ukraine (Rossiiskaya gazeta, October 14; Kommersant, October 13). The fighting in Gaza unleashed by the Hamas attack increases the urgency in Washington to overcome this deadlock. An initiative that combines the funding for aid to Israel and Ukraine can become a means to this end (Interfax, October 12).
Moscow also presumes that strong US support for Israel would create new issues in relations with those European allies traditionally more sympathetic to the Palestinian cause. From the Kremlin's perspective, this presumed discord would further erode Western solidarity with Ukraine. The European states at the Ramstein meeting have committed to new deliveries of weapons to Ukraine, prioritizing air defense while admitting that they cannot compensate for the hypothetical discontinuation of American support (Vedomosti.ru, October 5). Perhaps more impactful politically was the resolution adopted by the Parliamentary Assembly of the Council of Europe that describes Putin's regime as a dictatorship and that seeks to terminate all connections with his illegitimate presidency (Meduza, October 13). The condemnation coming from Europe, in particular France and the European Union itself, of the atrocities committed by Hamas has been much stronger than Moscow had anticipated (RIA Novosti, October 14; Kommersant, October 13).
Russia's response to the developments in Gaza has been ambivalent and attuned to the positions of others in the wider Middle East. Two days after the Hamas attack, on October 9, Russian Foreign Minister Sergei Lavrov met with Arab League Secretary-General Ahmed Aboul Gheit and suggested an immediate ceasefire (Kommersant, October 9). The next day, at the Kremlin, Putin greeted Iraqi Prime Minister Mohammed Shia al Sudani and described the escalation of the conflict as a failure of US policy in the Middle East (Kremlin.ru, October 10). Addressing the summit of the Commonwealth of Independent States in Bishkek, Putin did not express any solidarity with Israel. He instead elaborated on "unacceptable casualties" among the Palestinians and warned about the serious consequences of these actions (RBC, October 13). Hamas duly expressed gratitude to the Russian president for taking this stance (RIA Novosti, October 14).
Russia appears to be on the same page with Saudi Arabia and Turkey while counting the fighting in Gaza to resonate and produce violent turmoil across the wider Middle East (Forbes.ru, October 13). Foreign policy pundits in Moscow predict the inevitable horizontal escalation of hostilities, confident in a perfect fit of such a development with Russia's interests (Rossiiskaya gazeta, October 10). It is not only the inevitable spike in oil prices that underpin these expectations (Nezavisimaya gazeta, October 10). No less important is the hoped-for failure of US attempts to deter and dissuade the spread of localized war, exemplified by Secretary of State Antony Blinken's shuttle diplomacy in Saudi Arabia, Jordan, and Egypt (The Moscow Times, October 12). At the same time, Moscow is wary of undercutting these efforts knowing that China, where Putin will travel later this week, is also trying to prevent escalation, even if Beijing's reaction has been rather subdued (RBC, October 15).
Russian intrigues sharply contrast with Ukraine's unequivocal support for Israel, which President Volodymyr Zelenskyy expressed while attending the meeting of North Atlantic Treaty Organization defense ministers in Brussels on October 11 and 12 (Novayagazeta.eu, October 14). Zelenskyy also sent a request to visit Israel in the coming days (RBK, October 12). Ukrainians tend to see Hamas' attack on Israel in the same light as Russian aggression against their own country. They have no reservations against Israel's ground attack on Gaza aimed at destroying the terrorist organization (NV.ua, October 13).
This position may influence Israel's stance on the war in Ukraine, from which it has tried to keep a convenient distance, abstaining from joining the Western sanctions regime against Russia (Novayagazeta.eu, October 13). Russian military intervention in Syria is a major consideration underpinning this caution; however, it is becoming clear to Israeli analysts that Moscow's capacity for sustaining this deployment has been depleted (Carnegie Politika, October 10). Russia has conceded the central role in Syria to Iran, expanding military ties with Tehran in the process. Additionally, the clandestine deal on Russia importing Iranian ballistic missiles and drones in exchange for missile technologies constitutes a serious challenge for Israel (RBK, October 10).
Every aggression produces an impulse of moral clarity, translating into political choices and actions. The states that have formed the coalition supporting Ukraine are also members of the anti-Hamas coalition. Putin's expectations that the war in the Middle East would leave Ukraine forgotten and isolated will likely be disproven by reaffirmed Western unity and Ukraine's solidarity with Israel. The fighting in Gaza has proven, yet again, that compromises with terrorists are as senseless and dangerous as are attempts to appease aggressors. Moscow's appeals to resume conversations with Hamas are essentially self-serving and aimed at promoting the dismembering of Ukraine through a "peace process." Peace will come for Ukraine and Israel will succeed in normalizing relations with its Arab neighbors only after the aggressors and terrorists are soundly defeated.
Selected Articles – The News And Times