IE 11 is not supported. For an optimal experience visit our site on another browser.
The dissolution of Nagorno-Karabakh as a breakaway state is a seminal point  — a rare supernova among the constellation of ethnic conflicts left by the implosion of the USSR.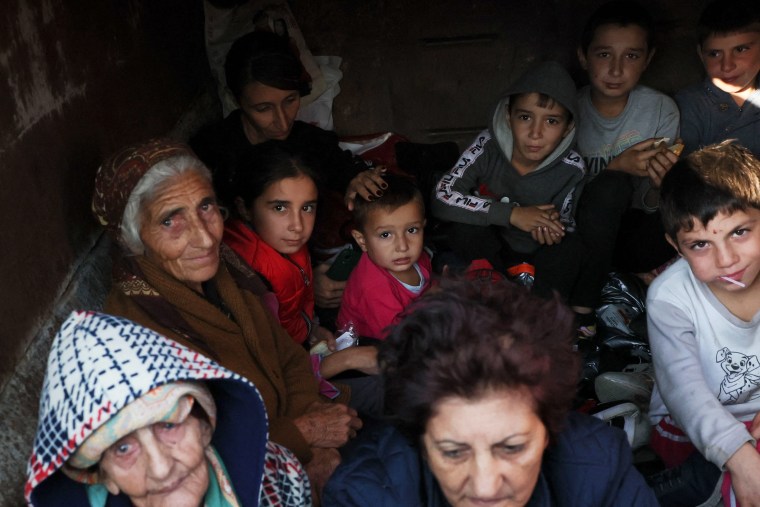 Refugees sit in the back of a truck near Kornidzor, Armenia, on Thursday. Alain Jocard / AFP – Getty Images
Sept. 28, 2023, 6:06 PM UTC
By
Matt Bradley
and
Natasha Lebedeva
After more than half the population of an ethnic Armenian enclave fled their homes in a mountainous pocket of land south of Russia, the breakaway republic's leaders said it would soon "cease to exist." 
In what amounted to a formal capitulation to Azerbaijan, which surrounds it, the Armenian leaders of Nagorno-Karabakh said the self-declared Republic of Artsakh would be dismantled by the end of the year.
This would end three decades of intermittent conflict in and around the enclave, break a 10-month blockade of the region in the South Caucasus that residents said had starved them into submission, and dash hopes of an independent state in territory claimed by Azerbaijan. 
The dissolution of Nagorno-Karabakh as a breakaway state is a seminal point  — a rare supernova among the constellation of ethnic conflicts left by the implosion of the then-Soviet Union in the early 1990s. The conflict's abrupt halt reflects how the geopolitical reach of Russia's invasion of Ukraine has forced realignments far beyond that war.
In an official decree, the region's separatist President Samvel Shakhramanyan said that residents of Nagorno-Karabakh must now "familiarize themselves with the conditions of reintegration" into Azerbaijan and make "an independent and individual decision about the possibility of staying (or returning) in Nagorno-Karabakh."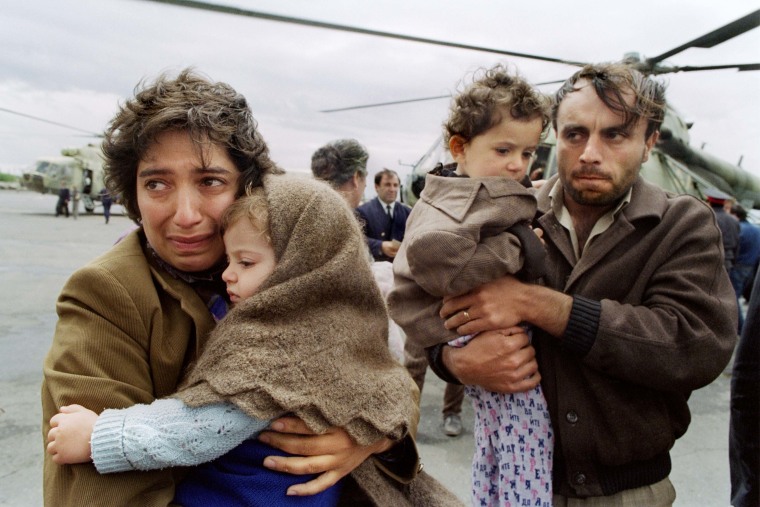 An Armenian family fleeing Nagorno-Karabakh arrives at Yerevan airport in 1991 after being evacuated by a Soviet army helicopter.
Wojtek Druszcz / AFP via Getty Images
The announcement came as around 70,000 of the enclave's population of about 120,000 fled from the region, which sits within Azerbaijan's borders, to neighboring Armenia, according to Armenia's government, with more still arriving. 
Many residents hauled what few personal belongings they could gather into packed cars, trucks, buses and tractors, some pockmarked with shrapnel after days of Azerbaijani attacks. 
Armenia's leadership has accused Azerbaijan of instigating a refugee crisis by launching a swift invasion this week. Azerbaijan has denied allegations of "ethnic cleansing," saying it is not forcing people to leave, and would peacefully reintegrate the region and guarantee rights of ethnic Armenians.
Holding a wealth of monasteries, mosques and other religious sites, Nagorno-Karabakh is culturally significant for both Muslim Azeris and what was an overwhelming Christian Armenian population. Armenians in Azerbaijan have been victims of pogroms, while Azerbaijanis claim discrimination and violence at the hands of Armenians.
"Azerbaijan has won a comprehensive military victory and what we're looking at now is the prospect of Nagorno-Karabakh without Armenians or with very few Armenians remaining," said Thomas de Waal, a senior fellow with the London-based Carnegie Europe think tank. "So in that sense, Azerbaijan has won."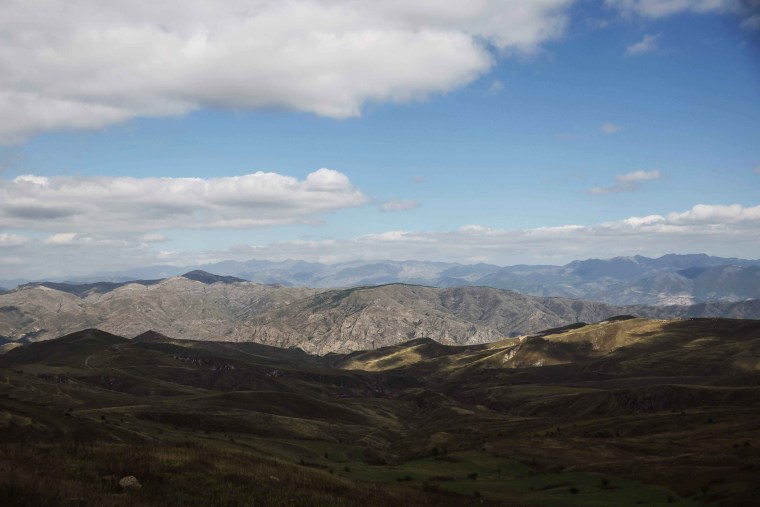 The Karabakh Mountains, seen from the Armenian side of the border with Azerbaijan on Wednesday.
Alain Jocard / AFP – Getty Images
For those fleeing, the despair of losing their homes was made worse by losing their homeland.
"Many of them are from villages which were taken by the Azerbaijani army, so they really lost their homes already," said Astrig Agopian, a French Armenian journalist who has been reporting this week on the refugee crisis from Armenia's border. "There is really this feeling that this time is different. It's another war, but it's a war that is definitely lost this time." 
Were that the case, it would bring to an end decades of violence in the region, which has been at the center of geopolitical interests between Eastern and Western nations for centuries. 
The political dispute between Armenia and Azerbaijan over Nagorno-Karabakh began as the then-Soviet Union weakened in the late 1980s, and Armenians demanded that the majority-Armenian region be incorporated into the Armenian Soviet Socialist Republic.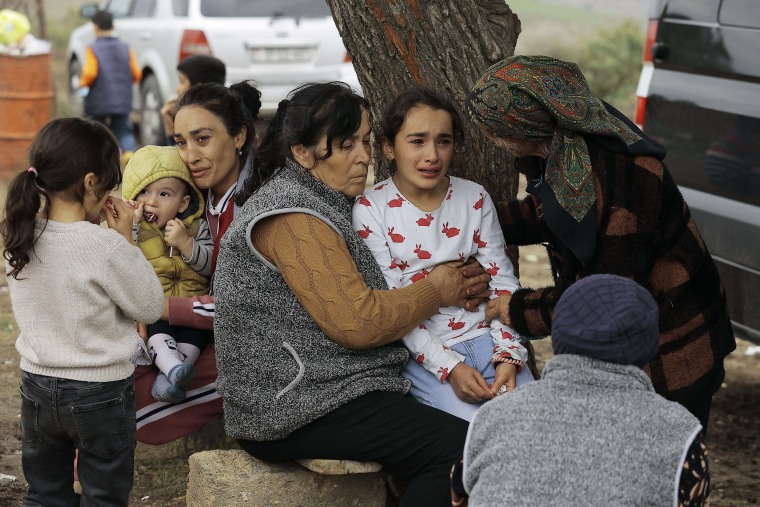 Ethnic Armenians from Nagorno-Karabakh comfort a young woman upon arriving in Kornidzor, Armenia, on Tuesday.
Vasily Krestyaninov / AP
After the USSR collapsed in 1991, the conflict erupted into a full-scale war that persisted until a Russian-brokered peace deal in 1994. About 30,000 people were killed and more than a million people displaced.
"My husband died in the first war. He was 30, I was 26. Our children were 3 and 4 years old. It is the fourth war that I went through," Narine Shakaryan, a grandmother of four, told the Reuters news agency after she arrived in Armenia. "My husband died back then, he was 30 in 1994. That's the cursed life that we live."
The fighting continued intermittently for several more decades, leaving an indelible mark on generations of Nagorno-Karabakh's ethnic Armenian residents. A recent war in 2020 saw the more powerful Azerbaijan, backed by Turkey, reclaim much of the land surrounding the area, as well as part of the region itself.
Russia negotiated an end to that flare-up and even deployed peacekeepers to ensure security along the Lachin Corridor, the single mountain road that connected Armenia to Nagorno-Karabakh.
But the events of the past year show how Moscow, which has historically played the role of both peacekeeper and ally to Armenia — which shares its Christian roots and hosts a Russian military base —  has adjusted its allegiances following its invasion of Ukraine and its conflicts with the West.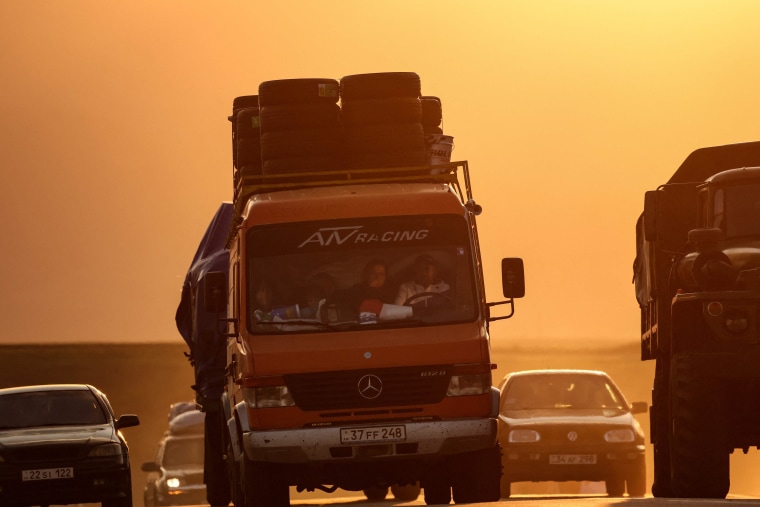 Refugees crossing the border near Kornidzor, Armenia, on Wednesday.
Alain Jocard / AFP – Getty Images
"The pivotal factor was that Azerbaijan was talking separately to the Russians, and had a joint agenda with the Russians, to pressure Armenia and also to keep the West out of the Caucasus," de Waal said. "This is why when the Azerbaijani assault happened, Russian peacekeepers who could have actually stopped it stood down. And then Russia failed to condemn the attack."
After its invasion of Ukraine left Russia isolated, Moscow may feel it has more to gain from cozying up to Azerbaijan than Armenia, particularly after the latter made a public display of cozying up to the West and provided humanitarian aid to Kyiv. 
Earlier this month, the country conducted joint exercises with the U.S. military and the Armenian Parliament is set to vote next week on whether to accede to the International Criminal Court, which classifies Russian President Vladimir Putin as a war criminal — a move the Kremlin characterized Thursday as "extremely hostile."
Inside Nagorno-Karabakh, Azerbaijan's government has assured the region's Armenian population that they will be treated humanely and afforded equal rights. 
But after months of blockades and blistering fighting, few ethnic Armenians believe it and many feel they have no choice but to flee.