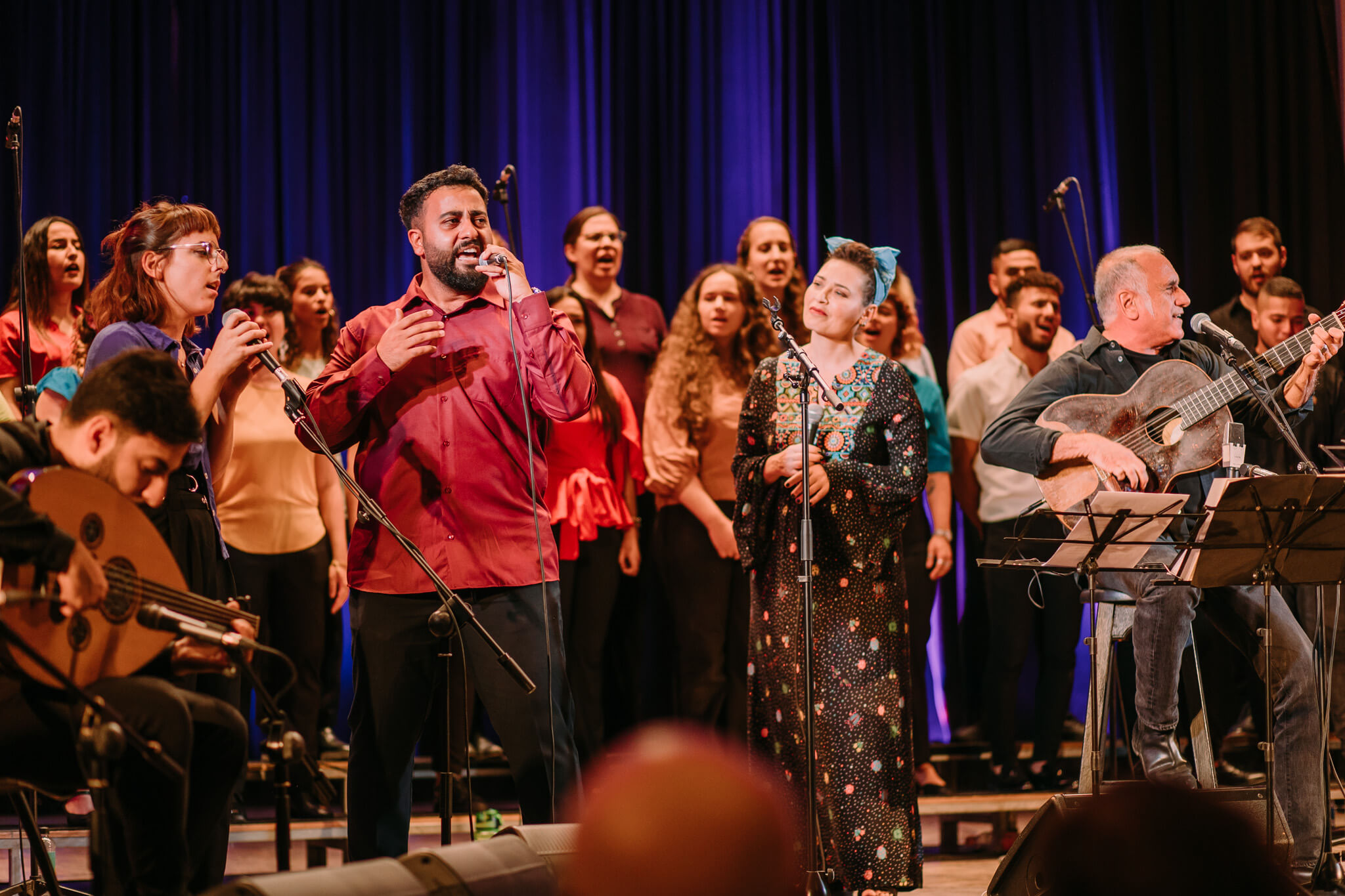 The Jerusalem Youth Chorus, founded by an American Jew who hoped to prove that music could build bridges between feuding peoples, postponed its American tour this month on account of war.
But the chorus managed to perform for a U.S. audience anyway on Sunday, when The Kennedy Center, a stop on the planned tour, presented the group in a virtual concert. Arab Israeli singer and actress Mira Awad, a longtime supporter of the chorus, hosted the Zoom event, and interviewed Israeli singer Noa, who said she has been singing at the funerals of victims of Hamas' Oct. 7 terrorist attacks.
"These days, when I cry, I cry for both of us," said Noa, referring to Israelis and Palestinians. A recorded version of her song "There Must Be Another Way" played for viewers, as did the chorus' "Reason to Love," which calls for peace in Arabic, Hebrew and English. 
Micah Hendler, 34, who lives in Washington, D.C. but makes frequent trips to Israel, founded the chorus 11 years ago. It now counts 30 singers and 75 alumni. Their voices, he said, are all the more important during war.
"What is happening right now is so deafening and so heart shattering, that we're trying to harness music as a way for us to sustain our own abilities to not tear each other apart," he said.
Hendler, who lives in Washington, D.C., has taken the chorus abroad several times — to the U.S., Switzerland, Japan and other countries. The New York Times has written about it. The Late Show With Stephen Colbert invited the chorus to perform.
He got the idea for the group when he was a camper at Seeds for Peace, which brings Jews and Palestinians to Maine each summer. If these Middle Easterners could befriend each other in New England, he thought, why not in Jerusalem?
"Singing in groups naturally creates community and builds trust, even on a psychological and neurological level," he said. "We're hardwired to trust people more when we sing together."
The group, which last performed in the U.S. in January 2020, a few months before the pandemic hit, is now led by executive director Amer Abu Arqub, 27, a Palestinian who is also a chorus alumni.
Amer remembers the day when, at 14, he decided to audition and told Hendler: "Before I open my mouth and sing to you and you hear my horrible voice, I just want to tell you that I have no musical talents, no musical backgrounds. I'm not gifted with a good voice, but I'm a good man." Hendler told him he was in.
Amer's work with the chorus brings him immense joy, he said, and has taken him to places he never expected to visit. But he also said that, except for his parents, his Palestinian community has not accepted his work with the chorus and these days especially, it's hard to talk about building bridges without courting intense criticism. The chorus doesn't change his or anyone's identity, he continued, "but it opens them up" to new ways of thinking.
Yaara, 23, an Israeli alumna of the chorus, played Joni Mitchell's "Both Sides Now," on the harp during Sunday's event. Raised in Sderot, a city which has sustained intense rocket fire, she declined to give her last name because she said she feared for her security. An art teacher who lost a childhood friend during the Oct. 7 attack, Yaara was in Jerusalem that morning, but left for the Dead Sea to support Israeli citizens evacuated there from the south.
Sunday's virtual concert was a place for people to see "a side that is not taking sides," she said.
Hendler said that chorus members tend to strengthen their commitment to it when violence flares and war looms. When the conflict flared in Jerusalem in 2014, he remembered, chorus kids would come to rehearsals and risk flouting curfews so they could sing together.
"There's no world in which the Jerusalem Youth Chorus single handedly will end the Israeli-Palestinian conflict — that's like absurd," he said. But he thinks it can help point the way for Israelis and Palestinians to think differently about each other. 
As Yaara put it: "No matter what happens, I don't see one side or the other. I see my friends." 
The post 'I cry for both of us': For a mixed Jewish-Palestinian Jerusalem choir, a canceled tour and shared grief appeared first on The Forward.