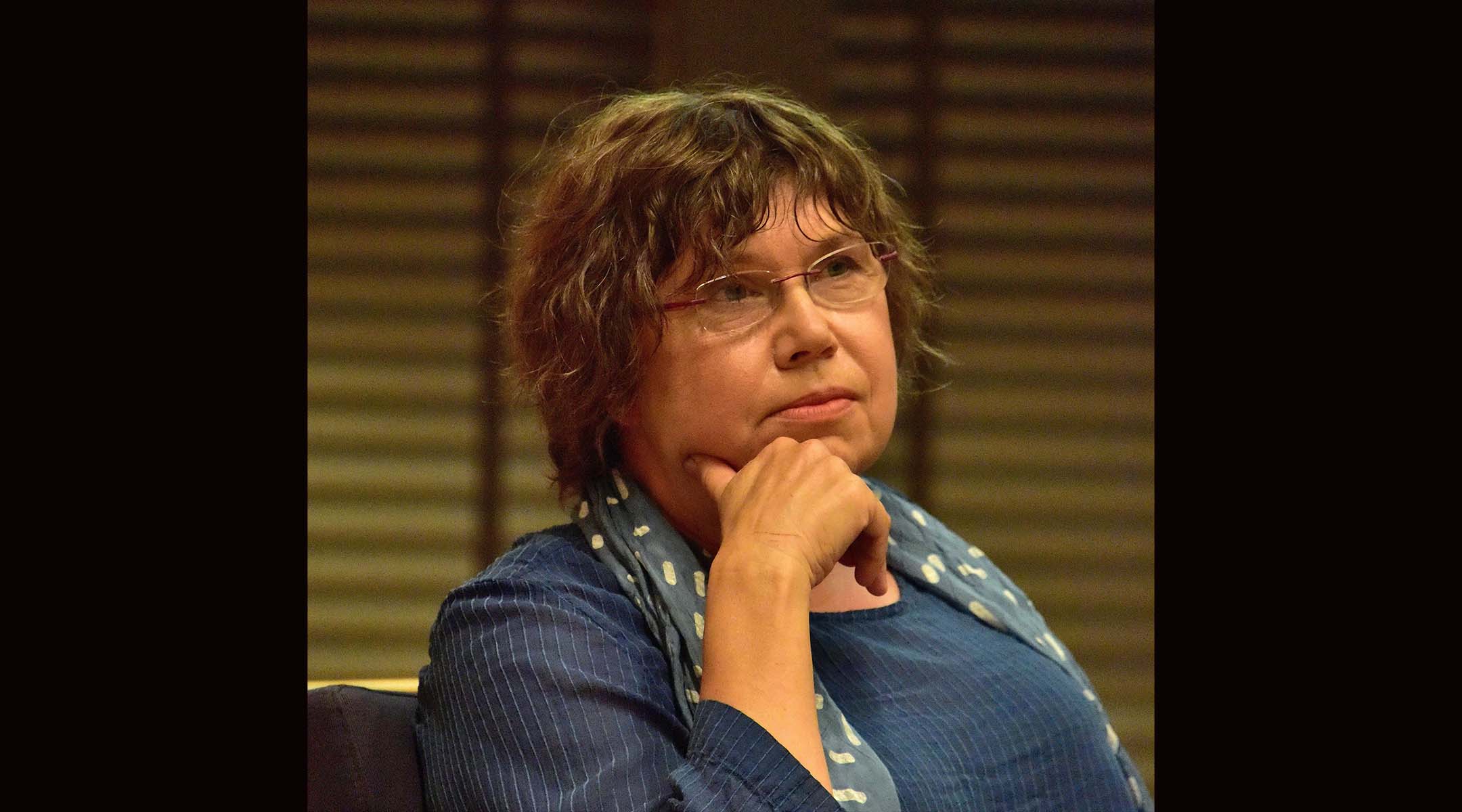 (JTA) — A Polish political feud over Holocaust history has widened into an international condemnation of the government's attempts to silence a leading scholar on Polish-Jewish relations during World War II.
More than 300 academics and institutions around the world — including Yad Vashem, Israel's Holocaust history authority and memorial — issued a statement condemned the Polish government-led attacks against Polish historian Barbara Engelking, director of the Polish Center for Holocaust Research, for publicly stating that Poles "failed" during the Holocaust and Jews were "unbelievably disappointed with Poles during the war.
One letter in support of Engelking released Thursday and signed by 11 Israeli organizations, such as Yad Vashem, the Ghetto Fighters' House Museum and Massuah Institute for the Study of the Holocaust, decried her critics' attack on "academic freedom and historical facts."
The dispute reflects the governing Law and Justice party's ongoing push for a patriotic narrative of the past that scholars such as Engelking say erases Polish crimes against Jews during the war. The party's campaign on this front led to a years-long series of diplomatic spats with Israel.
The latest fracas began on April 19, the 80th anniversary of the Warsaw Ghetto Uprising, when Engelking made an appearance on the country's largest private television station, TVN.
"Poles had the potential to become allies of the Jews and one would hope that they would behave differently, that they would be neutral, kind, that they would not take advantage of the situation to such an extent and that there would not be widespread blackmailing," she said, adding that Poles today exaggerate how much they helped Jews during the war.
In response, Polish Prime Minister Mateusz Morawiecki lashed out at Engelking in a nearly 900-word tweet, accusing her of expressing an "unwarranted opinion" that distorted reality. He emphasized that the Nazi Germany's destruction of the Polish state is what enabled the murder of 1.1 million Polish  Jews during the Holocaust, and he suggested that those who did not sufficiently acknowledge Polish efforts to aid Jews during the war "commit a crime on human valor, heroism, on good,"
In addition, the government's broadcasting regulator announced it would conduct legal proceedings against TVN, which is owned by Warner Bros. Discovery, over the Engelking interview because "if the guest on a program is lying, the journalist must tell viewers that it is a lie."
Poland's education minister,  Przemysław Czarnek, threatened to defund Engkelking's research institute, which is part of the Polish Academy of Sciences, claiming he did not wish to support her insult to the Polish nation. Joining the chorus of critics was a member of the European Parliament from Poland's ruling Law and Justice party, Dominik Tarczyński, who said he would file for a request for Engelking to be criminally prosecuted for insulting the Polish nation with her remarks. Tarczyński made headlines in 2019 when he told CNN that antisemitism does not exist in Poland.
This is not the first time Engelking has come under attack by the right-wing Law and Justice-led government for expressing her views on Polish attitudes during the Holocaust. In 2018 she co-edited a book, "Night Without End: The Fate of Jews in German-Occupied Poland," about Polish betrayals of Jews during the war which was widely condemned by Polish officials as diminishing Polish suffering under the Nazi occupation.
It is estimated that the Nazis murdered up to between 1.9 million non-Jewish Poles about 3 million Jewish citizens of Poland.
There are more than 7,000 Poles recognized by Yad Vashem for aiding Jews during the Holocaust, about a quarter of all those the memorial has recognized as Righteous Among the Nations. In German-occupied Poland, those who aided Jews, as well as their families, were killed by the Nazis.
This article originally appeared on JTA.org.
The post Hundreds of academics and institutions, including Yad Vashem, condemn Polish government's attack on Holocaust historian appeared first on The Forward.