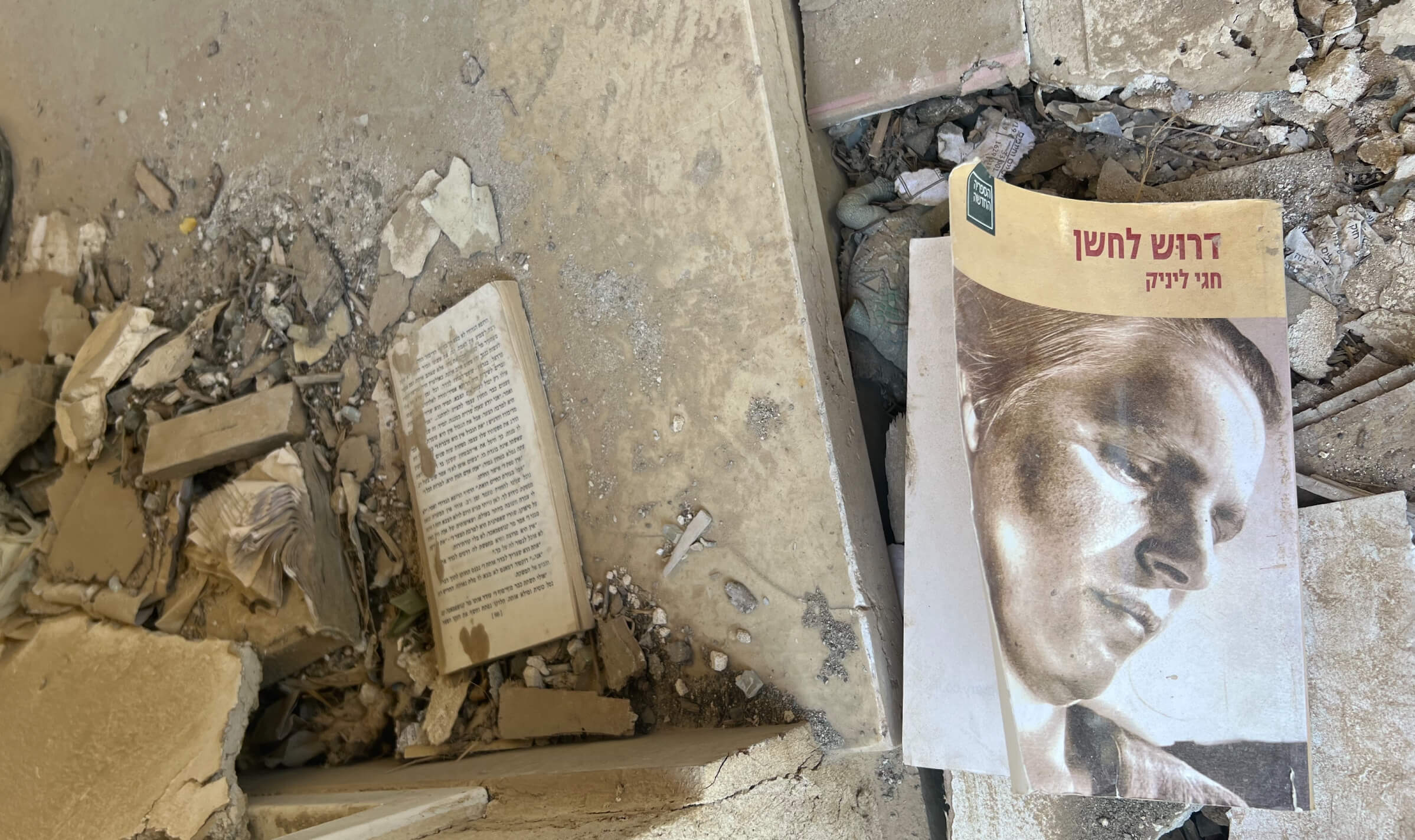 Amid the rubble at the site of a massacre, I saw a book.
I am not sure who was reading it, or whether they are now alive or dead. It seems they made it to page 86 before over 100 Hamas terrorists ravaged Kibbutz Be'eri on the morning of Oct. 7, killing at least one-tenth of the residents and kidnapping dozens of others.
As I tiptoed over ceiling tiles and debris dislodged by rockets and the bullets that tore through homes, on a press tour two weeks ago, I felt like I was profaning a sacred space. Choking on the dust and ash left behind from the burning of so many bodies and buildings, I peered into intimate moments preserved in time that the residents had no intention of sharing with the world.
There it was, lying amid fragments and debris: Prompter Needed by Haggai Linik.
I'm not sure what about this book in particular caught my eye; it was not the only one I saw that day. Perhaps it was the way the woman on the sepia-toned cover, head cocked and eyes downcast in a universal gesture of grief, looked like she had something important to say. 
It turns out that she did.
Prompter Needed which won Israel's prestigious Sapir Prize in 2011, is Linik's third book. It is semi-autobiographical, and provides an intimate portrait of the emotional and psychological aftermath of a family whose oldest son — Haggai's brother — is killed in an IDF training exercise. 
The book, as its publicist billed it, "is about the effort to integrate an experience of death into everyday life." It follows parents who "much like his own, silently cope with their grief." It hasn't yet been published in English, but I was able to obtain a translation from the author's wife.
It was easy enough to get a hold of Linik. He graciously invited me to his home in Tel Aviv, a sun-drenched apartment a short walk from the Carmel Market.
I'm not sure what, exactly, I hoped he would say. While he's written extensively about his family's tragedy, his relationship to his own personal grief remains intensely private. 
Yet even when the family of the dead would prefer to grieve in silence, we naturally fall into narrative and myth-making. By insisting that a soldier did not fall in vain, that loved ones taken too young play a role in a much larger story, the pain becomes, for some, both meaningful and manageable. And when applied on a national scale, this transformation of suffering and anger is perhaps the most effective power of the modern Jewish state.
'My voice is not that different'
Linik, his wife and I ate cake and drank tea in his living room last week. Like everyone here, he had been to many funerals that week.
I told him that I was interested the relationship between nationalism and mourning.
"This is all he writes about," his wife, the author and translator Sabine Huynh, told me.
"My voice is not different than other people," he protested.
It took Linik, 64, six years to write Prompter Needed, and he always writes his drafts and edits by hand. Typing on the computer, he says, distances oneself from the writing, which "needs to come up from inside," he told me, comparing it to a sculptor carving away excess material to reveal what is hidden within.
I particularly wanted to speak to him because of a column he'd written for the Israeli news outlet Yediot Ahronot shortly after the book's publication, about why he would no longer attend the pomp and circumstance of Israel's Memorial Day proceedings:
"I have stood there with my own body so that my dead, for the duration of the 40-minute memorial, will be your dead," he wrote. "But after 44 years, I am tired of playing the role of your agent of death. I quit."
And yet, that's exactly the role that writing several books about a grieving family seems to me to have put him in. I asked him how he felt about the fact that Israel had gone straight from the Oct. 7 massacre to rallying for war. I mentioned the sudden surge of nationalism I'd witnessed, and my discomfort with how it seems to leave no space for the dead.
He didn't quite see it that way.
"It's natural," and the government's job to do this, he says with a shrug. "They need to do something, they cannot say, 'ooh, let's start to cry about the dead.'"
"You cannot sit now. It's a political situation and a political world."
Israel uses the dead soldiers in particular, he says, to feed its national myth — that every dead soldier is a martyr for the righteous cause of securing the Jewish homeland — not to make meaning of personal tragedies. This is necessary, he says, given the dangerous neighborhood in which Israel is situated.
But "I don't need it," he said of all the meaning-making. "My death is private. My brother, it's private."
"But a lot of people in Israel need them," he added.
"You cannot walk in the streets and say, 'aah, I'm miserable,'" he told me. "Everybody is miserable. You need to do with it something."
He thinks it's only natural that Netanyahu — whom he does not like — will take advantage of the situation to ascribe blame to others and enact his political vision. "You need to be without feelings when you are prime minister," he says.
"This is the tragedy of Israel," he says. "We need to defend ourselves 24 hours, seven days a week." 
He thinks Hamas didn't realize it would be so successful, and would take it back if given the opportunity. Over 1,500 Israelis have died, and Israel will totally destroy Gaza.
"What for?" he asks. 
A sense of belonging
Linik's mother will not speak her dead son's name aloud. Her character in the book turns into an obsessive recluse, withdrawing from her family to wait for her soldier who will never return. 
In real life, Linik tells me, preserving the memory of her son as a national hero is essential to her. It proves that she — a Holocaust survivor from Germany — belonged in this place. It gives meaning to the death of her son.
"I don't need to feel belonging," he tells me. "I was in the army, I know the language."
But his mother is foreign — both to him and to Israel. And this puts a great distance between them.
Yet he bristled at the idea that writers should feel a particular responsibility to help people process this moment. He expressed disdain for writers who let politics seep into their writing, in fact, listing several of Israel's literary giants whose later work he felt had been corrupted by this impulse.
But he doesn't seem quite finished exploring his own intimate tragedies publicly. His latest book, Sailing, is a short story collection which came out in August and centers on the same grieving family in Prompter Needed.
"He knows very well that there are things that cannot be mediated through words, chief among them death, pain and grief," Omri Herzog wrote of the book in his review for Haaretz. "Those who have not experienced them in their body and soul will not be able to fully imagine them. One can only talk about them, talk about them in words, pretend that one can disagree with them, from the language and to the outside."
Linik did not begin writing books until he was 33. He studied to play guitar professionally (still plays in a rock band), and also tried his hand at photography. But nothing felt quite right, he told me, until he began writing lengthy letters home to Israel about his own life and experiences.
He says that all the best writers ultimately write about themselves.
"I don't write about the Swedish people," he tells me, for example. "I don't know them and I don't care about them. I write for my family, and for my childhood."
But what inspires him to write, beyond this? He scoffs at the idea that there's anything more to it.
"It's hard work," he says of the process. "Again and again and again."
The post I found a book in the ruins of Kibbutz Be'eri — and then I had to find its author appeared first on The Forward.