The FBI is not the revered institution it once was, but it can be again 
I was an FBI special agent for more than 12 years and considered it a calling until I walked away at the end of last year. Unfortunately, the FBI changed significantly as it became politically and socially weaponized. I joined the FBI to fight crime but over time found myself being bombarded with partisan politics and social movements swirling around me which I wanted no part of.  
At the same time, Americans lost trust in this important institution and morale plummeted. It pained me that I was no longer proud to say I was an FBI special agent. I realized under the current leadership that no one was going to stop the FBI from continuing on this trajectory, and I lacked faith things would improve. 
CBS SLOBBERS OVER JACK SMITH: HIS 'AGGRESSIVE APPROACH' TO HEALTH, FITNESS 'CORRELATES' TO TRUMP INDICTMENTS 
As I watched FBI Director Christopher Wray's July 12 testimony before Congress, it reconfirmed my decision to leave the career I once loved. He entirely glossed over the glaringly detrimental mistakes of some within the FBI that have damaged the reputation of the entire organization. It is tough to do your job when you are no longer supported or respected by those you are entrusted to protect and serve.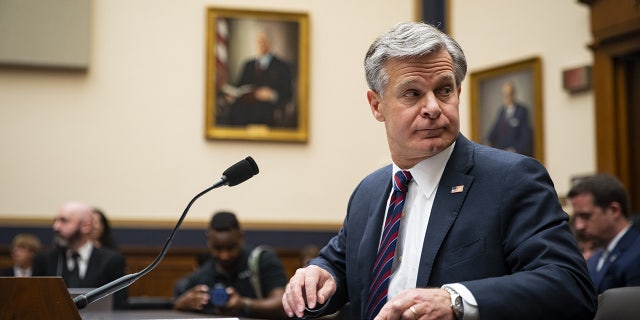 Unless Wray admits there are ongoing politicization problems at the Bureau and holds the culprits accountable, nothing will change. According to Wray, everything at the FBI is functioning as it should and there are no issues to address.  
He believes if you perceive the agency in a negative light, it's because the media is publishing inaccurate clickbait focusing on only one or two issues. Wray is adamant that the politicization at the FBI under his predecessor is no longer occurring during his tenure.   
However, millions of Americans and many retired and current FBI employees respectfully disagree with his assessment that all is well at the Bureau. They are aware that offenders within the agency are contributing to the current weaponization of our federal government.  
This has been seen in the FBI's involvement in the censorship of Americans through Big Tech, misuse of FISA, subservience to the Department of Justice's demands, blatant disparate treatment of individuals in investigations based on their political affiliation or social views, suppression of information or investigations related to the Biden family's foreign business dealings, and other notable actions. 
These are valid concerns for which I have no reasonable explanations. Many current and retired FBI employees are also perturbed and discouraged that the institution they gave so much for is now part of the weaponization problem.  
Let me be clear. Not everyone at the FBI is politically weaponized. In fact, it's as if there became two FBIs.  
"FBI 1" consists of hardworking employees who joined the Bureau to protect Americans, uphold the Constitution, and equally enforce the law. They have stayed true to their sworn oath. They shed light on truth. Their personal views are set aside as they diligently work to conduct investigations by the book and solve crimes by following the evidence wherever it may go.  
"FBI 1" constitutes the majority of the FBI. Typically, they're the rank-and-file employees who work tirelessly in the field offices. Many in "FBI 1" believe the director is out of touch with what is really happening inside the organization. They stay quiet but wish he would hold those responsible accountable.  
On the other hand, "FBI 2" is made up of employees who use their law enforcement authority to push their political or social agendas. Their ideologies dictate their decision-making processes, whether it be in the selection of which cases they cherry-pick for the FBI to investigate, how the investigations will be conducted, what intelligence reports will be generated, and who will be promoted.  
They include executive management in Washington, D.C., and trickle all the way down to professional staff in various field offices. Unfortunately, the politicized actions of "FBI 2" destroy the character of the entire FBI by undermining the incredible work of "FBI 1."  
Many Americans have had enough. They see the two-tiered justice system. They've lost hope anything will ever change regardless of the information exposed by the courageous whistleblowers coming forward.  
CLICK HERE FOR MORE FOX NEWS OPINION
Americans want truth, transparency, accountability, solutions, reform and results. And until that occurs, they will understandably tune out anything positive the FBI is doing and distrust the entire institution.  
However, millions of Americans and many retired and current FBI employees respectfully disagree with his assessment that all is well at the Bureau. They are aware that offenders within the agency are contributing to the current weaponization of our federal government.  
There are calls to abolish the FBI. Having worked at the Bureau, I witnessed and participated in the crucial work performed by "FBI 1." I do not believe abolishing it is the answer. Brave whistleblowers, "FBI 1" employees, and many members of Congress are working relentlessly to right this ship.  
Having taken a step back, I am optimistic and believe there are numerous plausible solutions that could be implemented to solve the Bureau's problems. But I understand that realistically, it will take time, patience, humility, a new administration, new FBI leadership, restructuring and massive reforms for the Bureau to regain the confidence of the American people.  
CLICK HERE TO GET THE FOX NEWS APP
Respectable current and retired Bureau employees love this country and will not allow their FBI to capitulate to political and social movements. Americans deserve better. I am hopeful that the Bureau will survive this difficult moment in its history. 
Where there's a will, there's a way. And for the honorable employees at the FBI – keep holding the line with fidelity, bravery and integrity. Keep the faith, America.