Charles McGonigal, a former FBI special agent who was arrested earlier this year for allegedly working with a sanctioned Russian oligarch, may change his plea in relation to criminal charges including violating U.S. sanctions and money laundering, according to a court order.
Mr. McGonigal had previously pleaded not guilty. He was arrested in January and charged with violating and conspiring to violate the International Emergency Economic Powers Act (IEEPA) by laundering money on behalf of Oleg Deripaska, a Russian billionaire.
On Aug. 7, U.S. District Judge Jennifer Reardon, who is overseeing the Manhattan case, wrote in a briefing to inform Mr. McGonigalchange that he may wish to enter a change of plea.
The judge has reportedly scheduled the plea proceeding for Aug. 15, Reuters reported.
Authorities alleged in January that Mr. McGonigal—who has been described by the U.S. Department of Justice (DOJ) as a high-level special agent in charge of the FBI's New York Counterintelligence Division before he retired in 2018—received concealed payments from Mr. Deripaska in exchange for investigating a rival oligarch and unsuccessfully pushed to lift U.S. sanctions on the Russian billionaire.
When announcing the charges, the DOJ alleged in a press release on Jan. 23 that Mr. McGonigal acted on behalf of Mr. Deripaska and "fraudulently used a U.S. entity to obscure their activity in violation of U.S. sanctions."
Mr. McGonigal is among the highest-ranking former FBI officials to ever have been charged with a crime.
The charges against Mr. McGonigal came as U.S. prosecutors ramped up efforts to enforce sanctions on Russian officials and police their alleged enablers in response to Moscow's attack on Ukraine.
Mr. Deripaska, the founder of Russian aluminum company Rusal, was among two dozen Russian oligarchs and government officials blacklisted by Washington in 2018 in reaction to the now-discredited allegations of collusion between Donald Trump's 2016 presidential campaign and the Russian government.
The 55-year-old billionaire industrialist and the Kremlin have denied any election interference.
Trump-Russia Investigation
Mr. McGonigal joined the FBI in 1996 and initially worked on Russian foreign counterintelligence and organized crime; later, he partook in investigations into the deadly TWA Flight 800 crash, the 1998 terrorist bombings in Kenya and Tanzania, and the Sept. 11 terrorist attacks. He was named special agent in charge of the Counterintelligence Division for the FBI New York Field Office in 2016.
While not referenced by the DOJ, Mr. McGonigal was reportedly involved in the FBI's investigation into Mr. Trump's 2016 campaign connections to Russia, specifically the former commander-in-chief's 2016 campaign adviser Carter Page.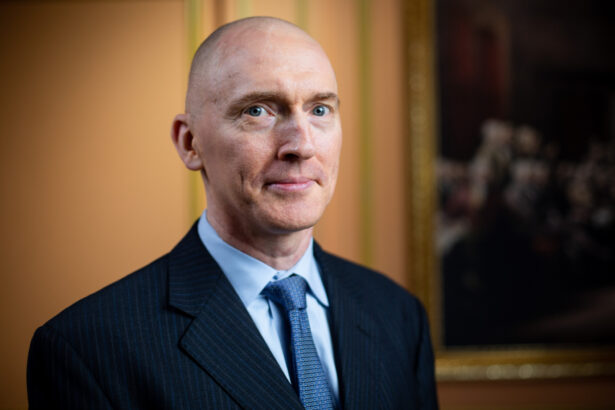 Carter Page, petroleum industry consultant and former foreign policy adviser to Donald Trump, in New York City on Aug. 21, 2020. (Brendon Fallon/The Epoch Times)
Messages (pdf) released by the then-Republican-controlled Senate Homeland Security and Government Affairs Committee in 2018 showed that FBI agent Peter Strzok communicated with Mr. McGonigal about the investigation involving Mr. Trump's campaign members.
In March 2017, Mr. McGonigal wrote to a colleague: "Our Team is currently talking to [Carter Page] re Russia," the Washington Free Beacon noted. It is unclear what other involvement he had in the Trump-Russia probe.
During Mr. Trump's 2016 campaign, Mr. Page was the subject of a Foreign Intelligence Surveillance Act (FISA) warrant, which allowed the DOJ to monitor his communications. In the now-discredited claims, the DOJ alleged that Mr. Page was "collaborating and conspiring with the Russian government" and had been the subject of past Russian intelligence recruiting efforts.
Mr. Page has denied working with the Russian government and has never been charged in connection with the investigations into the Trump campaign.
Ryan Morgan contributed to this report.