Ventura County authorities cautioned the public Tuesday not to rush to conclusions about the circumstances that led to the death of Paul Kessler, a Jewish man who succumbed to an injury sustained during an altercation with a pro-Palestinian protester.
Kessler, 69, died after midnight Monday, the day after he attended a pro-Israel demonstration that occurred alongside a larger pro-Palestinian demonstration in Thousand Oaks, about 35 miles northwest of downtown Los Angeles.
Ventura County Sheriff Jim Fryhoff at a press conference said the department had interviewed the protester with whom Kessler had clashed, and described the person as a "suspect" and one of those who called the police to alert them of Kessler's injury. But he said the nature of the altercation — including "who the aggressor was" — remained unclear.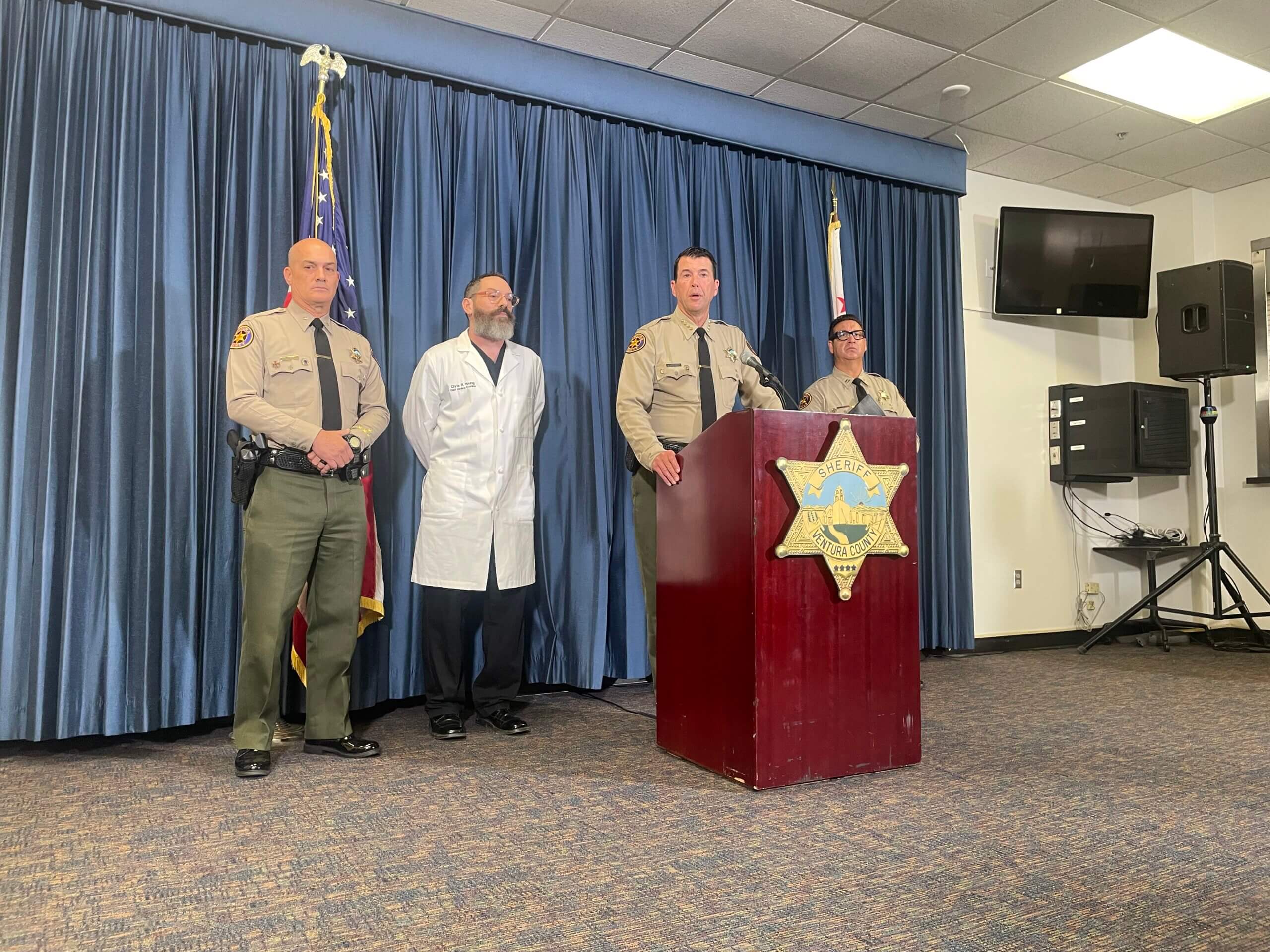 Photo by Louis Keene
"Some of the witnesses were pro-Palestine, while others were pro-Israel," Fryhoff said. "During the investigation at the scene, deputies determined that Mr. Kessler fell backward and struck his head on the ground. What exactly transpired prior to Mr. Kessler falling backward isn't crystal clear right now."
The county's chief medical examiner, Dr. Chris Young, said that in addition to a skull fracture and hemorrhaging around the brain — which he said were "injuries consistent with a fall" — Kessler sustained an injury to the left side of his face. The department said it had not determined how he sustained that injury.
Calls regarding Kessler's injury were made to authorities around 3:20 p.m. Sunday, and he was admitted to a local hospital at 3:53 p.m. Kessler died at 1:10 a.m. on Monday.
The 'manner of death'
The "manner" of Kessler's death was deemed a homicide Monday because Kessler died "at the hands" of another person, Young said. "The 'manner of death' is a medical legal determination. A 'manner of death of homicide' does not indicate that a crime has been committed," Young said, explaining the terminology used by his office.
A public information officer for the sheriff's department clarified later that calling it a homicide meant Kessler died "as a result of another human being's actions."
Fryhoff said he could not confirm earlier reports, including from the Jewish Federation of Greater Los Angeles, that the man had been struck on the head with a megaphone, but that it was one of the possibilities the department was investigating.
Detectives obtained a search warrant Monday at the suspect's residence in Moorpark, several miles north of Thousand Oaks, and detained the suspect following a traffic stop in nearby Simi Valley at around 5 p.m., Fryhoff said. He was released following the completion of the search.
Fryhoff said he could not provide details about the search.
A temporary memorial had been set up outside the gas station in Thousand Oaks where Paul Kessler suffered an injury during an altercation with a pro-Palestinian protester.
The post After death of pro-Israel protester, sheriff has a suspect but says what transpired 'isn't crystal clear right now' appeared first on The Forward.