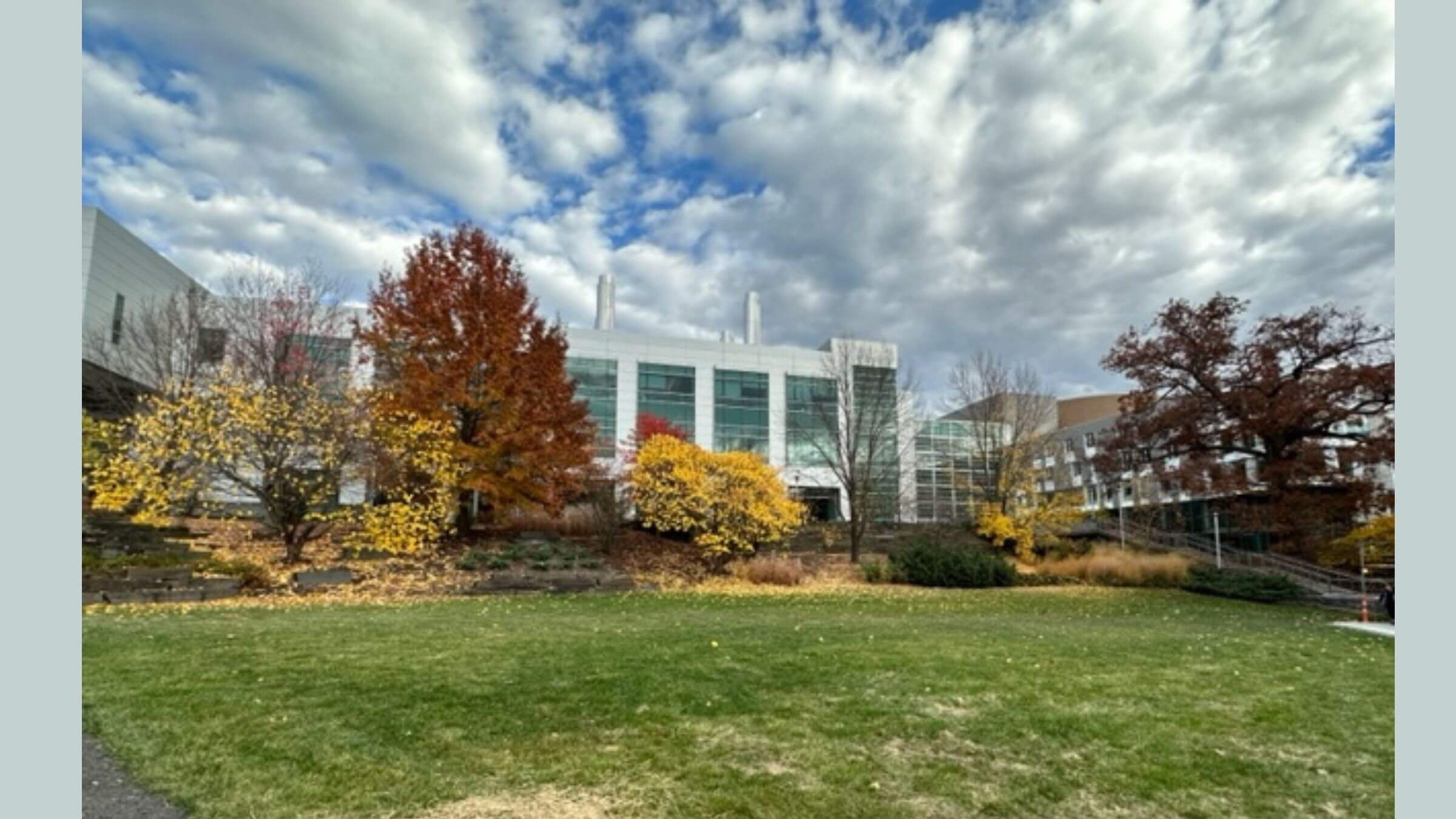 The FBI, New York's counterterrorism unit, Gov. Kathy Hochul and other authorities vowed Monday to hunt down and prosecute whoever posted graphic threats citing Hamas and targeting Cornell University's Jewish students.
"If you're going to engage in these harmful actions, hate crimes, breaking our laws, you will be caught and you will be prosecuted to the fullest extent of the law," Hochul said Monday morning after traveling to the Cornell campus in Ithaca, New York, 165 miles from the state capital in Albany.
The threats were posted Saturday and Sunday on Greekrank, a review site for fraternities and sororities. While many students and parents say they're trying not to panic, some Jewish undergraduates said they're afraid to be in their dorms, sororities and fraternities. One group of parents is even trying to hire private security because campus police can't guard every Jewish space on campus. 
Sarah Ruane, a spokesperson for the FBI in Albany, New York, located 165 miles from Ithaca but the nearest FBI office to Cornell, said the agency was "working closely with Cornell and our law enforcement partners at every level to determine the credibility, share information, and take appropriate investigative action."
Rabbi Ari Weiss, who runs the campus Hillel, said there was "increased security at all Jewish spaces at Cornell" and that the state police counterterrorism unit was also monitoring the situation.
A fun parents' weekend — then the news
News of the threats shattered the calm and fun of a late fall weekend on the bucolic campus in Western New York, a four-hour drive from New York City. Many students' families had been up visiting Saturday and Sunday for parents' weekend, enjoying the colorful autumn leaves, Halloween celebrations and a free bagel brunch hosted by Hillel Sunday morning. 
Then, as parents drove home Sunday evening and students geared up for the week ahead, came news of the threats. 
One post was titled, "eliminate jewish living from cornell campus," while another threatened to "shoot up 104 west," a reference to Cornell's kosher dining hall. The graphic messages also echoed real atrocities carried out by Hamas on Oct. 7 in Israel. "If i see a pig male jew i will stab you and slit your throat," read one, with another stating: "i will bring an assault rifle to campus and shoot all you pig jews," and a third threatening, "If i see another pig female jew i will drag you away and rape you and throw you off a cliff. if i see another pig baby jew i will behead you in front of your parents."
Texts from kids: 'The most terrifying thing I've ever read'
Reaction from students was captured in the texts they sent to parents and friends after hearing the news. 
"That's the most terrifying thing I've ever read," wrote one.
 "I hope it's not real," wrote another. 
A third wrote in a campus group chat that they were "nervous to go to my hebrew class tomorrow."
Lauren Wein Mank was among the parents who'd come up to campus for the weekend. She said her daughter has felt "safe and OK" at Cornell until now, but "when she read the actual posts, she was understandably extremely shaken. I just said, 'Listen, we were just there, everything was really good. I don't want you to put your head in the sand, but I don't want you to live in fear. Just be aware, and be mindful.'" 
Traci Friedman, a Cornell alumna whose daughter lives in a Jewish sorority, was scrambling Monday with other parents to hire round-the-clock private security for the off-campus house.
"They're terrified to leave the house or be in the house," she said. "When I called Cornell police last night, they said they don't have enough resources to post someone full-time. So we're trying to hire our own security." 
Cornell President Martha Pollack joined the governor in vowing to find and punish whoever made the threats, saying in one of several statements issued Monday: "The virulence and destructiveness of antisemitism is real and deeply impacting our Jewish students, faculty and staff, as well as the entire Cornell community. This cannot be what defines us at Cornell." 
But Friedman said she was angry that Pollack "was being hailed as a hero by the media" because she felt little has been done until now about other antisemitic incidents on campus, including antisemitic graffiti and a professor, Russell Rickford, who took a leave of absence after publicly saying that he found the Oct. 7 Hamas attacks on Israel "exhilarating" and "energizing." 
A remote location
"My daughter's dream, her entire life, was to go to Cornell, but it's been such an upsetting experience," Friedman said. But she added that the parents are probably "more upset than the students. I think it's just that the general feeling of college students is invincibility, and in general, Cornell feels sort of remote."
With more than 15,000 undergraduates, Cornell is the largest of the Ivy League schools, and it also has the most Jewish students — 2,500, according to the campus Hillel. With reduced tuition for New York residents at Cornell's four state colleges, Cornell also draws heavily from New York's large Jewish population. 
The campus in Ithaca — located 220 miles from New York City in Western New York's scenic Finger Lakes region, in a town with a non-student population of just 30,000 — also feels much more isolated than other Ivies like Columbia in Manhattan, Penn in Philadelphia, Yale in gritty New Haven, and Harvard, just across the river from Boston. 
A parent who asked that her name be withheld, citing privacy concerns, said it was "surreal" to learn about the threats after parents' weekend. "The campus was focused on celebrating Halloween," she said. The statue of the university's founder, Ezra Cornell, had a pumpkin on its head, kids were walking around in costumes and celebrating back-to-back victories by the men's and women's hockey teams, and "parents were walking around in all their Cornell gear." 
That lighthearted mood changed overnight. "Students are terrified, really, really scared," said Zoe Bernstein, student president of Cornellians for Israel. "We're at a loss for what to do and how to proceed. Nobody knows anything about these threats, how credible they are. There's a lot of confusion and a lot of fear."
Trying to rise above it
Sofia Rubinson, managing editor of The Cornell Daily Sun, said many of the Jewish students she spoke to said that if the purpose of the hate speech was to instill fear, they wanted to show they could rise above that and "keep to their daily routines and attend class."
A parent with two children at Cornell, who spoke on condition of anonymity out of privacy concerns, said her children were defiant. One called the person behind the posts "a loser." The other said, "Some troll got in there and posted some crap." 
"They're not concerned," the parent said. "But I worry, how does this affect their identity as Jews?"
Molly Goldstein, president of Cornell's Center for Jewish Living, a dormitory adjacent to the kosher cafeteria, said that after the social media posts started circulating in a group chat for Jewish students, some of the building's residents, fearing for their safety, tried to find housing elsewhere in Ithaca so they wouldn't have to sleep there. While it's unknown whether one or more individuals were behind the threats, she said, "it only takes one person to terrorize an entire group of people."
Rabbi Weiss, from the campus Hillel, said the last few weeks have "made it so hard for these students," between anti-Israel rallies, graffiti and the incident with the professor who ended up going on leave. "And then they see these things, these posts on a Sunday afternoon, and I think it shook a lot of students to their core." 
He added: "They are now fearful for their safety. And this is a trend around the country. This isn't just at Cornell." 
The definition of terrorism: Stoking anxiety
Wein Mank said that in addition to a child at Cornell, she has two younger children in Jewish day school, as well as family in Israel who are "in bomb shelters, their kids are on the front lines." So she's well aware of the very real threats to Jews here and elsewhere, and she doesn't want to sensationalize what's happening in Ithaca. 
But "it's hard to find the signal in the noise," she said. She posted pictures on Instagram of parents' weekend showing Cornell in all its "autumn glory" but wonders, "Which is the illusion?" The fear that someone's out to get you, or defiantly going about your business? 
"I don't know," she said. "This is the definition of terrorism. It makes you doubt your experience." 
Forward staffers Jacob Kornbluh, Louis Keene and Odeya Rosenband contributed to this story. 
The post Cornell's idyllic campus shaken by graphic threats against Jewish students appeared first on The Forward.