Although Saturday's official commemoration of the 1963 March On Washington is on Shabbat — two days before the actual anniversary date of Aug. 28 — attendance is endorsed by major Jewish organizations. 
Some of those groups participated in the original march, though initially, they couldn't agree on which of their leaders would get a podium spot, according to Rachelle Horowitz, a deputy to the march's chief organizer, Bayard Rustin.
"The Jewish community played a very big role. Of course, the Jewish community was its usual self. They couldn't possibly agree on one person to represent them," Horowitz told me this week.
Eventually, she said, "they came up, brilliantly, with Rabbi Joachim Prinz. I'm totally secular, but I do think he gave one of the best speeches of the march. He had been the rabbi in Berlin when Hitler came to power. He said, 'you say 'it's not me they're after.' Well, they're going to come after you.' It's too bad that his speech got buried in the day's events."
The main thing that buried Prinz's words was the Rev. Martin Luther King's "I Have a Dream" speech that immediately followed it. But no speech would have been as historically significant if not for the 200,000-plus march attendees, at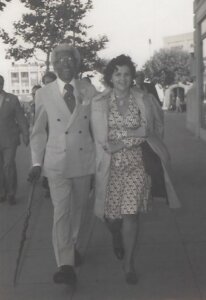 Bayard Rustin and Rachelle Horowitz in 1968. Horowitz worked with Rustin on numerous civil rights campaigns, including as transportation coordinator for the March On Washington in 1963. Courtesy of Rachelle Horowitz
that time the largest peaceful gathering in the nation's history. Horowitz, then 24, was responsible for getting them there — accomplished, mind you, with rotary dial phones, leaflets and snail mail. The only social media she had was word-of-mouth.
"We were aiming at 100,000," she recalled of attendance estimates. "I had captains for each bus and train and plane. About a week before the march I concluded that we were going to have about 89,000."
Horowitz gave her estimate to Rustin, who conveyed the depressing report to the leaders of the organizations sponsoring the march, including NAACP head Roy Wilkins.
"Wilkins said, 'She really has reservations for 89,000?' Bayard said yes.' And Wilkins said, 'Hot damn! We're going way over 100 (thousand)! She has no idea who's coming from Washington, or who's coming on Greyhound that hasn't chartered through them. And then there's my Aunt Bessie. My Aunt Bessie is going to roll over the morning of the march and she's going to say to my uncle, 'Hey, let's grab the car and go down.''"
To this day, Horowitz said, "I don't know if he really had an Aunt Bessie" — but a multitude of aunts, cousins and others indeed showed up.
By 1963, Horowitz had already been working for Rustin in New York for several years offering fundraising and tactical support to various civil rights activities.
"I was 16, 17 during the Montgomery Bus Boycott" of 1955-57, she said. "I was a young radical who wanted to change the world. Michael Harrington (the activist and writer) suggested I help Bayard," with a group that also included later Student Nonviolent Coordinating Committee leader Bob Moses. "We sort of became his ragtag army."
The idea of a march on Washington had been germinating since shortly before World War II, when Rustin's mentor, A. Phillip Randolph of the all-Black Brotherhood of Sleeping Car Porters threatened President Franklin Roosevelt with a mass protest lest he integrate the federal defense industries. Roosevelt agreed and the march was called off.
By the early 1960s, the Civil Rights Movement was escalating, with the Freedom Rides through the South and sit-ins nationwide. Randolph and Rustin renewed the call for the march, as did Jim Farmer of the Congress of Racial Equality and Charles McDew, the Black and Jewish chairman of SNCC, who with King issued a "Call for an Emancipation March on Washington for Jobs" in May 1963. When it came in August, neither Farmer nor McDew would attend the march; the former opting to stay in jail with fellow CORE members following a protest in Louisiana, and the latter handing over the SNCC chairmanship to a young John Lewis, who did speak at the Lincoln Memorial podium.
In addition to the march, which was an unqualified success in changing attitudes and helping dismantle legalized segregation in America, Horowitz draws lessons from lesser known civil rights actions. One was a four-person sit-down by her with Farmer, activist Tom Kahn and Ernest Green of Arkansas' Little Rock Nine at the front gate of the New York World's Fair in 1964. Though their action received broad publicity, she recalled it as more of a show of support for Farmer during internal CORE squabbles than serious principled opposition to the fair.
"The reporters said, 'Mr. Farmer, why are you protesting?" And Farmer says, 'I'm here to protest the glitter and glimmer of the World's Fair.' And Ernie Green, who had needed a whole army to take him into high school, said to me, 'What's wrong with glitter and glimmer?'"
That lesson of choosing your battles and keeping focussed remain today, Horowitz says, especially with the current attacks on diversity and Black history.
"I would say to people today to establish for yourself a set of principles and live by those principles, and not get pulled into a demonstration for demonstration's sake."
The post By bus and train and plane — and 'Aunt Bessie' — Jewish activist brought 200,000 to march appeared first on The Forward.