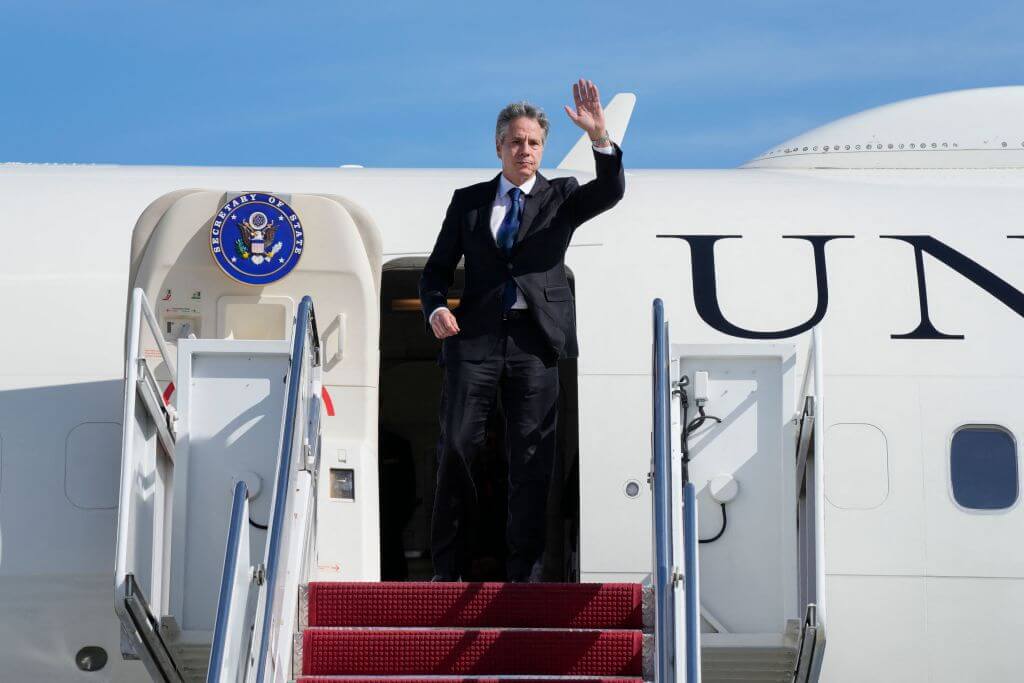 This article originally appeared on Haaretz, and was reprinted here with permission. Sign up here to get Haaretz's free Daily Brief newsletter delivered to your inbox.
U.S. Secretary of State Antony Blinken will return to Israel on Monday, according to a U.S. official, following several days of shuttle diplomacy across the Middle East. State Department Spokesperson Matthew Miller confirmed the visit to reporters traveling with Blinken.
The visit will come after Blinken's whirlwind regional tour aimed at stemming Hamas attacks, addressing Gaza's humanitarian crisis stemming from Israel's response, leveraging diplomatic support toward releasing hostages and preventing any further regional escalation as Israel's dramatic military escalation looms.
Blinken will head to Israel from Egypt, with whom the U.S. has been working in hopes of alleviating the worsening Gaza humanitarian crisis, securing a deal on temporarily opening the Rafah crossing and establishing a humanitarian corridor.
Blinken, prior to Egypt, visited Israel, Jordan, Qatar, Bahrain and the United Arab Emirates. He also made two separate trips to Saudi Arabia, which condemned Israel's retaliatory strikes on Gaza for targeting "defenseless civilians," where he met with Crown Prince Mohammad Bin Salman for under an hour.
Blinken's diplomacy is one element of the unprecedented U.S. support for Israel following the Hamas attacks, responsible for the deaths of 1,300 people (among whom are at least 29 U.S. citizens.) U.S. President Joe Biden, for his part, has spoken with Prime Minister Benjamin Netanyahu five times in the eight days since the attacks.
The U.S. announced Saturday it will deploy a second aircraft carrier strike group near Israel, further bolstering its military presence in the Mediterranean amid concerns of an escalating conflict with Iran and Hezbollah.
The Biden administration has additionally prioritized updating family members of the 15 Americans still unaccounted for, while further monitoring any potential threat stemming from the Hamas attacks both domestically and internationally.
The post Blinken to return to Israel following whirlwind Middle East diplomacy tour over Gaza War appeared first on The Forward.