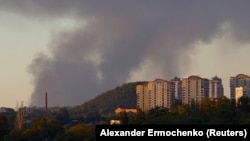 Smoke rises from the area in the direction of Avdiyivka as seen from Russian-occupied Donetsk.
Russian forces have continued to attack Ukrainian positions around the town of Avdiyivka in the eastern Donetsk region in Moscow's largest offensive in months.
The General Staff of Ukraine's military said on October 15 its forces had repelled 15 Russian attacks near Avdiyivka as well as in Tonenke and Pervomaiske in the Donetsk region.
"The adversary keeps trying to break through Ukrainian defenses, to no success," it said on Facebook.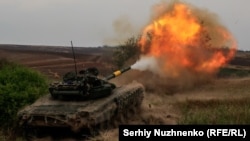 RFE/RL's Live Briefing gives you all of the latest developments on Russia's full-scale invasion, Kyiv's counteroffensive, Western military aid, global reaction, and the plight of civilians. For all of RFE/RL's coverage of the war in Ukraine, click here.
A Russian force of between 2,000 and 3,000 men on October 10 launched an offensive on Avdiyivka, located 15 kilometers northwest of Donetsk city, in an attempt to encircle Ukrainan troops.
Vitaliy Barabash, head of Avdiyivka's military administration, said Russian forces had been ordered to capture all of the Donesk region by December 31.
"They understand: if they take the height of Avdiyivka, then it will be easier for them to reach Pokrovsk and so on. Therefore, Avdiyivka is extremely important for them," Barabash said.
Pokrovsk lies 54 kilometers northwest from Avdiyivka, near the Donetsk region's border with the Dnipropetrovsk region. Russia last year claimed to have annexed the Donetsk region along with three other Ukrainian territories even though it does not fully control them.
White House National Security Council spokesman John Kirby said on October 13 that he was confident that Ukrainian troops could repel the Russian attack.
He said it appeared that Russia was throwing poorly trained troops into the battles around Avdiyivka, a tactic commonly referred to as human waves.
Ukrainian military officials said they anticipated the attack on the city and had beefed up defenses.
The Institute for the Study of War noted on October 14 that Russian military bloggers complained the offensive was being slowed by mines, an indication that Ukraine indeed anticipated the offensive. Russia is also using unusually large numbers of armored vehicles in the offensive, it noted.
Avdiyivka, home to a large coke factory used in the prodution of steel, had a pre-invasion population of 32,000. About 1,600 people remain, Ukrainian authorities have said.
It is impossible to evacuate them under the current Russian offensive, officials have said. Two Ukrainian civilians were killed in Avdiyivka on October 14 as the city was hit with shelling so fierce that emergency crews were unable to recover the dead.
Elsewhere, an early-morning attack on October 15 that targeted a village in the Izyum district in northeast Ukraine's Kharkiv region destroyed a home and left a 57-year-old man and a 54-year-old woman dead, according to regional military head Oleh Synyehubov.
Two other districts in the Kharkiv region also came under shelling early on October 15, according to the military official. Synyehubov said that in one of the districts, Kupyansk, "fierce fighting" continued and that Ukrainian forces had repelled 10 Russian attacks.
Two people were also killed and three more injured in Ukraine's southern Kherson region after it was bombarded by more than 100 shells over the weekend, local Governor Oleksandr Prokudin said on social media.
Russian President Vladimir Putin, speaking on state television on October 15, said that Russian forces were in a state of "active defense."
"This concerns the areas of Kupyansk, Zaporizhzhya, and Avdiyivka," Putin said.
On October 14, Kyiv said that Russian forces had "not stopped assaulting" Avdiyivka for days, although Ukrainian President Volodymyr Zelenskiy said that forces defending the city were holding their ground.
Ukrainian military spokeswoman Natalya Humenyuk said on October 14 that Russian forces in Ukraine's south were resorting to air strikes at night targeting residential areas, civilian infrastructure, and agricultural enterprises.
Ukrainian efforts to counter the attacks in the area, Humenyuk said, were currently focused around the Dniepr River.
While both Russia and Ukraine have denied targeting civilians, the UN said this week that 9,806 civilians have been killed and 17,962 have been injured as the result of Russia's full-scale invasion of Ukraine that began on February 2022.