Former Wagner commander Andrei Troshev has outlasted a failed military coup and the death of his one-time boss.
Just over a month since Yevgeny Prigozhin's death in a plane crash, the 61-year-old has been tasked by President Vladimir Putin with overseeing volunteer fighter units in Ukraine.
Here's everything we know about him.
Who is Andrei Troshev?
A former Internal Affairs agent and military veteran, Andrei Troshev was a founding member and executive director of the Wagner Group.
The retired colonel — whose call sign is "Siedoy" or "Grey Hair" according to EU documents — reportedly "split away" from Wagner forces following the attempted rebellion in June.
But even prior to the attempted mutiny, Troshev's history within the group was contentious.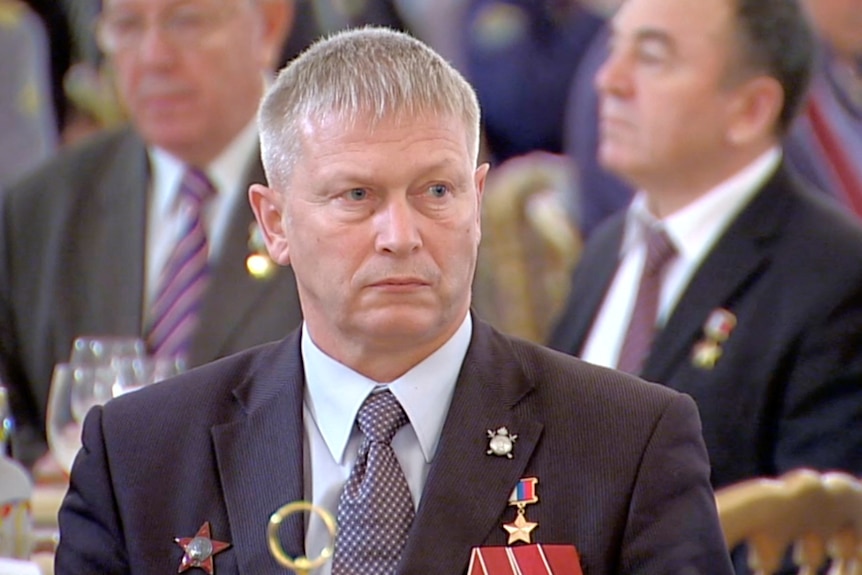 Andrei Troshev is seen here at a celebration for Heroes of Fatherland Day in 2016. (Reuters: Kremlin.ru/Handout)
He played a role as a Wagner commander in Russia's military intervention in Syria in 2015.
In 2017, he was admitted to a St Petersburg hospital after being discovered on the street.
The near-comatose Troshev was carrying 5 million rubles ($78,448) and $US5,000 ($7,923) in cash, according to Russian media and police reports.
He was also allegedly carrying military maps of Syria, plane tickets and receipts for new weapons.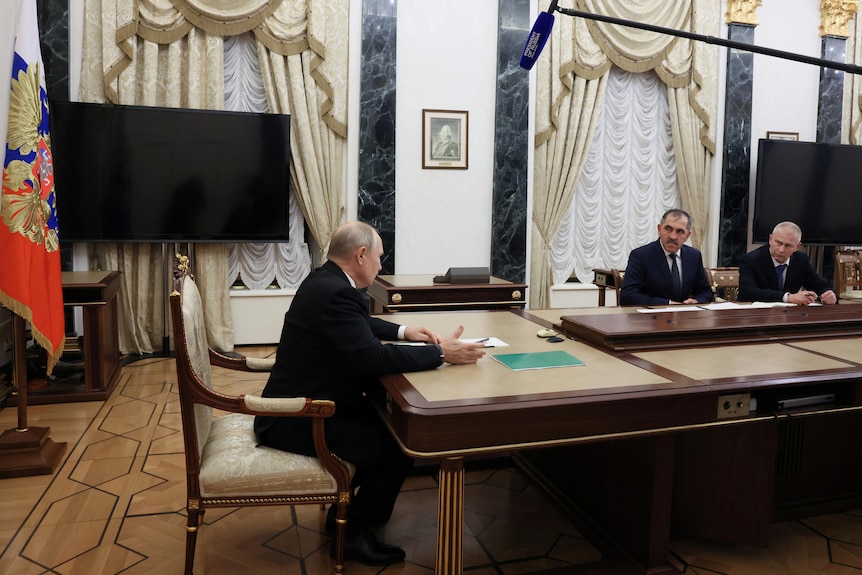 Photos of the meeting were released by the Kremlin. (Reuters: Sputnik/Mikhail Metzel)
A year later he would be handed the Hero of the Russian Federation, the highest military title in Russia, for his service in Syria.
His refusal to take part in Wagner's short-lived rebellion meant he was not aboard the private jet alongside Prigozhin and his top officers when it crashed on August 23.
To recap, what is the Wagner Group? 
The Wagner Group is a private Russian military company with mercenaries operating in 30 different countries, including Syria and parts of Africa. 
It was led by businessman Yevgeny Prigozhin and had played a large role in the Ukraine invasion until the moment he ordered troops to advance on Moscow. 
It may have been that attempted mutiny — labelled "treason" by Putin — which left Prigozhin vulnerable to retribution. 
Why did Troshev meet with Vladimir Putin?
It's believed the Kremlin wants to show it has control over Wagner following the mutiny and Prigozhin's death.
Troshev was shown on state television meeting with the Russian leader on Thursday local time, alongside Deputy Defence Minister Yunus-Bek Yevkurov.
Addressing Troshev, Putin said they had spoken about how "volunteer units that can perform various combat tasks, above all, of course, in the zone of the special military operation".
"You yourself have been fighting in such a unit for more than a year," Putin said.
"You know what it is, how it is done, you know about the issues that need to be resolved in advance so that the combat work goes in the best and most successful way."
What does the meeting mean for the Wagner Group?
It appears to indicate that what's left of Wagner will now be overseen by Troshev and Yevkurov.
In late August, just days after the plane crash, Putin ordered all Wagner employees to swear an oath of allegiance to Russia.
Some Wagner fighters have signed up for service with the Russian military, while others have been snatched up by different private military companies.
British military intelligence suggests as many as several hundred former Wagner fighters have already begun to redeploy to Ukraine as part of different units.
ABC/Reuters